Can You Wear Earbuds With a Daith Piercing | A Complete Guide In 2023
Are you a music enthusiast who likes to keep his favorite tracks with him every time? Wait a minute, have you just jumped into piercing fashion, and now you are curious about listening to music? Then this blog post is made for you "Can you wear earbuds with a daith piercing?"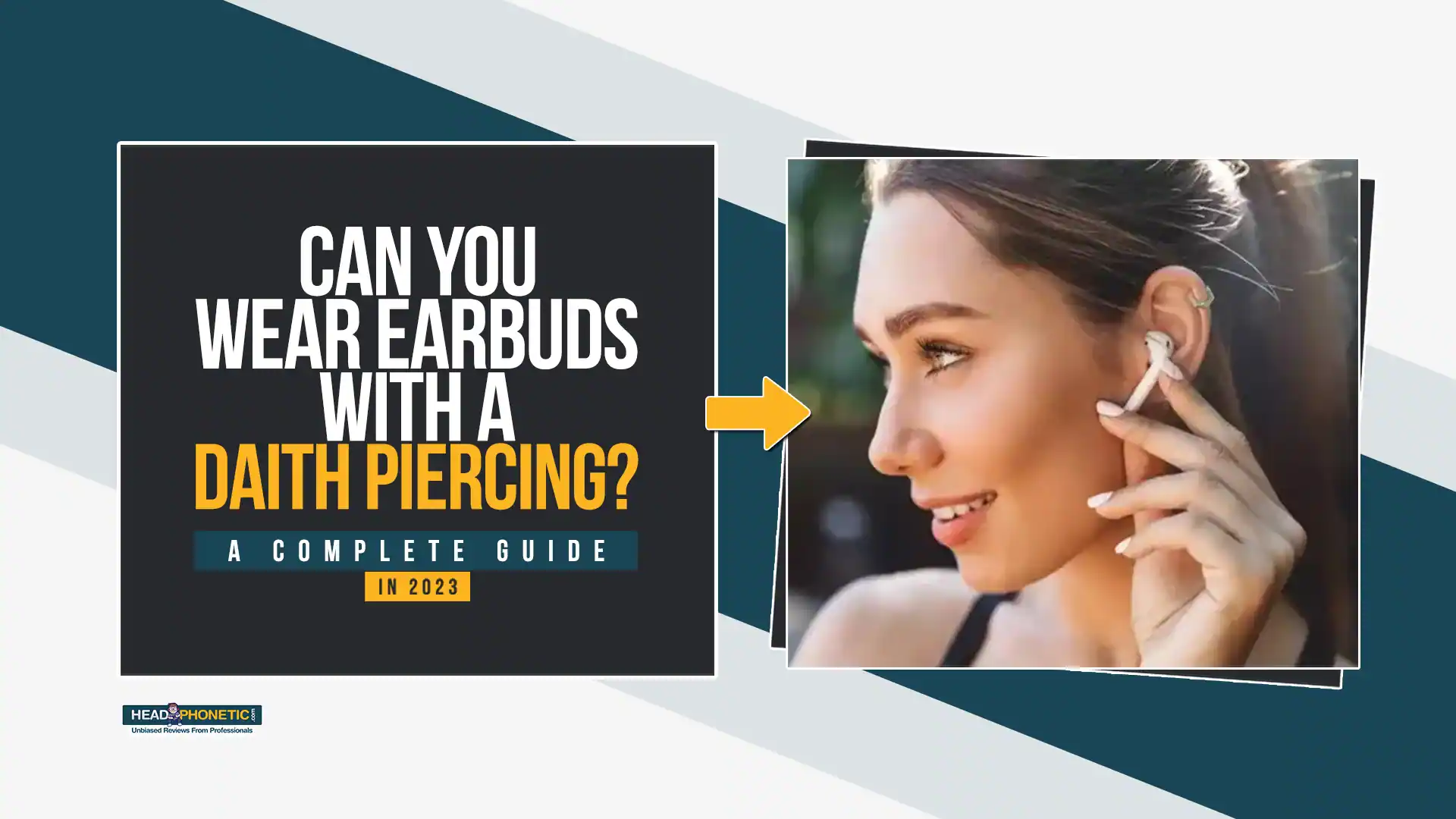 Music enthusiasts are emotionally attached to their favorite artists. They want to keep listening to their favorite tracks. This era is called an era of advanced technology, and the music industry is part of it. Many earphone technologies have been introduced to the market, making things easy for most people. Yet some face the issue of using these earbuds because of the growing fashion in ears. One of these growing fashions is daith piercing, which gives a killer look to everyone. 
So many people who are done with daith piercing or want to perform daith piercing must feel curious about earbuds. This post is about the pros and cons of earbuds usage with daith piercing.
But if you want to know about How To Connect Sony WF 1000XM4 With other devices then you can read this article.
What is Piercing?
Piercing involves getting some part of your ear cartilage pierced and putting some earrings in them. It is common in all genders, and there are multiple reasons behind it.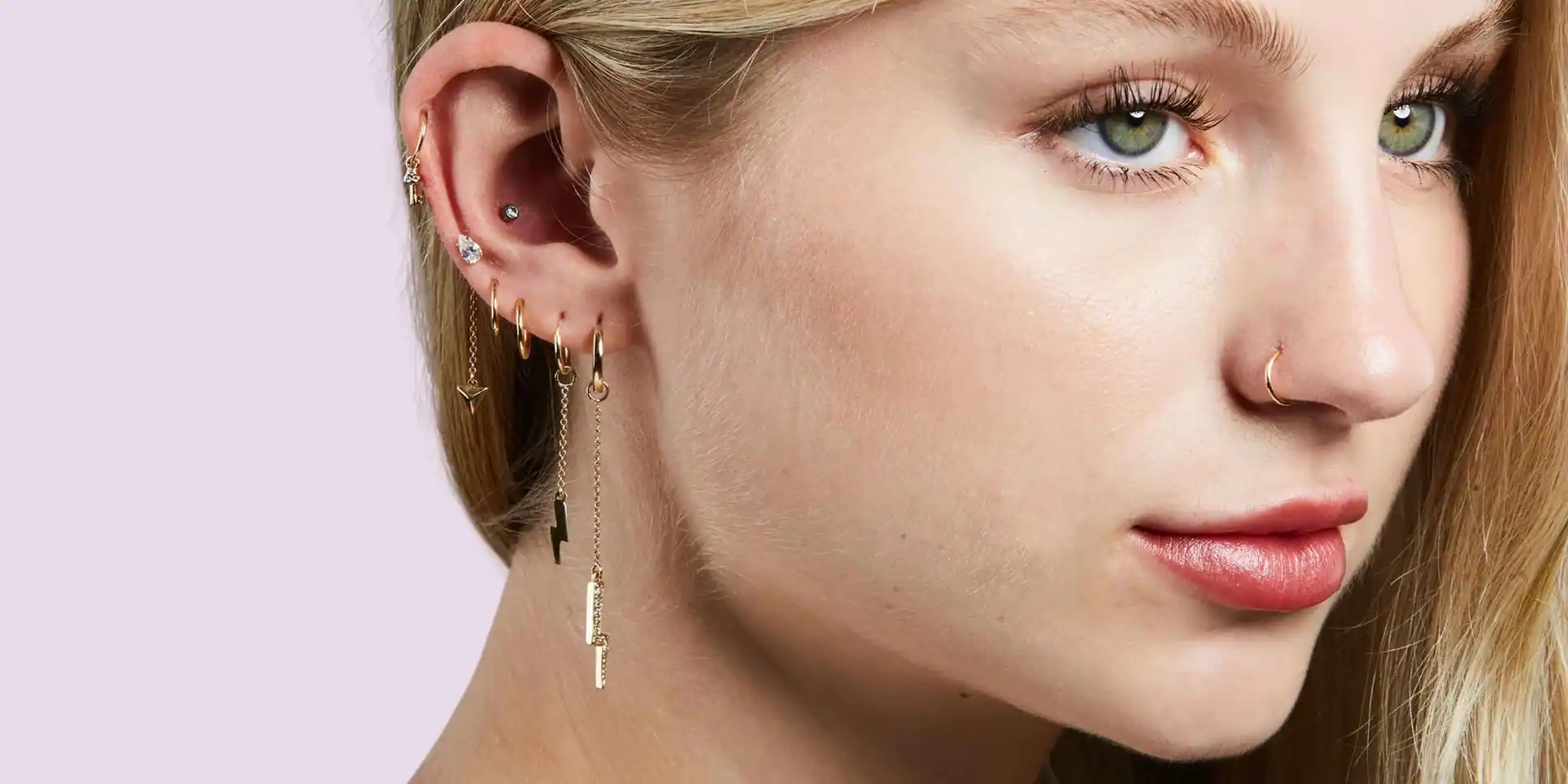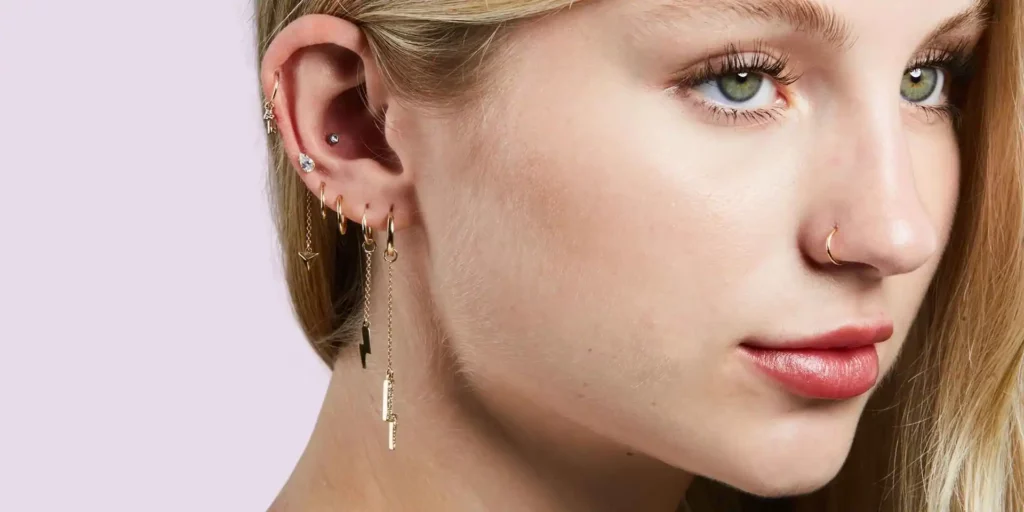 Some people do the piercing because they love to have a uniquely fashioned look on them. It helps you to stand out in different fashions. Only some people get their ears pierced because of fashion only. They wear earrings with piercings because of the tradition in their area.
Piercing is of different kinds, and which one is suitable for earbuds? Decide yourself.
1. Rook Piercing:
Rook piercing is a unique piercing of all types. It is done at the cartilage fold located in the upper inside of the ear right down the helix. This piercing can be healed in 6 months, and its pain is moderate. Well, pain genuinely depends upon your willpower. If we talk about health benefits, Rook piercing is supposed to help females with menstrual pain. It is also said to be helpful in digestion.
2. Tragus Piercing:
Tragus piercing is done in the thick part of the cartilage attached to the face. When pierced, this thick part gives the people a fiery look. Tragus piercing is more painful as compared to other piercings. It requires 3 to 6 months to heal. For health benefits, it helps us with appetite control.
3. Daith Piercing:
Now we are talking about the most famous piercing all around the world. Daith piercing is done at the inner part of the ear. It requires 6 to 9 months to heal, which is mildly painful. For health benefits, daith is helpful in migraine relief.
Daith piercing is said to be challenging in earbud use as it is done at the inner part of the ear. Our blog is focused on its use with earbuds.
Can You Wear Earbuds With a Daith Piercing?
Daith piercing is done at the inner part of the ears, and using earbuds on it won't be a helpful decision. Earbuds are different, and you cannot use all of them with daith piercings. Although, if you follow some tips and tricks, you can also enjoy your music with daith piercing.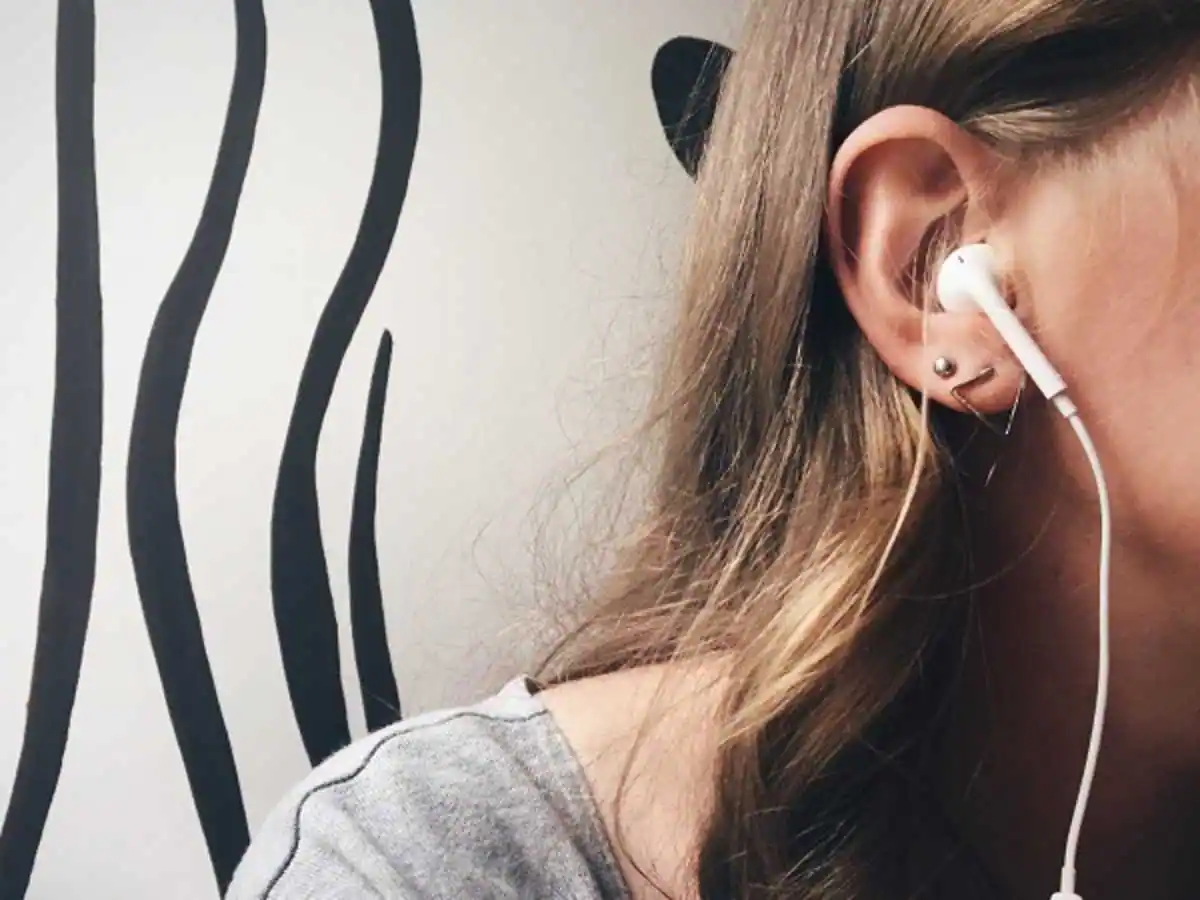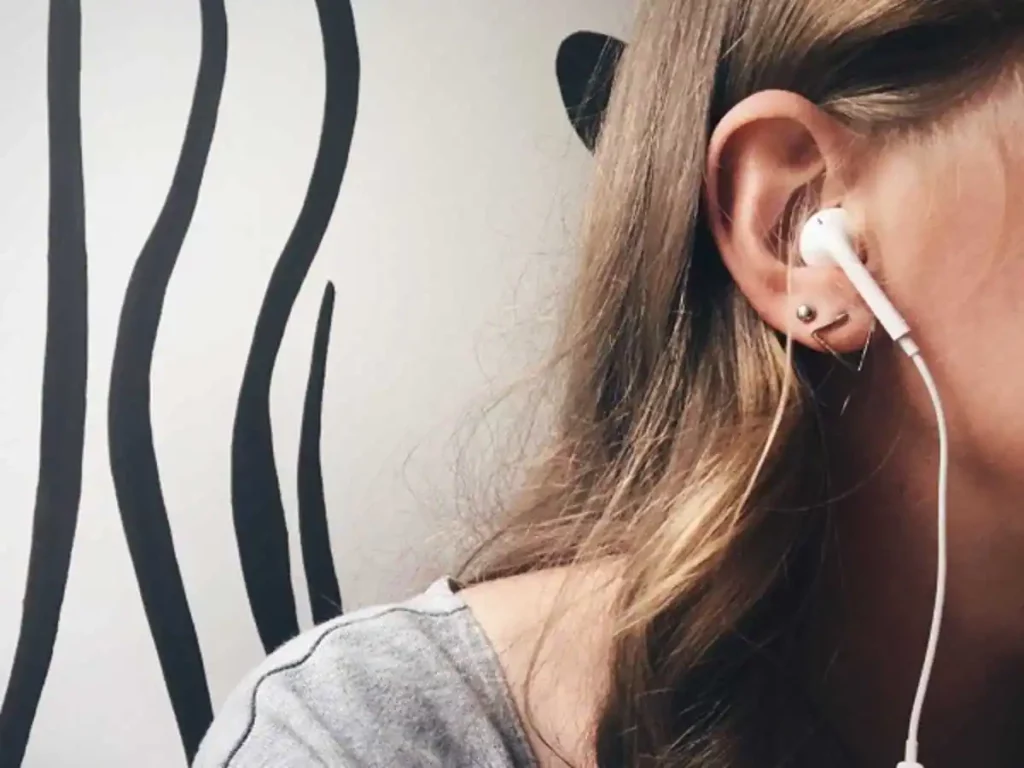 Let it heal first:
Daith piercing is one of the toughest piercings in the world, and its benefits are also huge. But it requires time to be healed. Where most piercings can be healed in three to six months, daith piercing requires 6 to 9 months.
Using an earbud while the piercing is not healed will not be a good idea. It can lead to infection and pain by releasing liquid from the ears. If you are too insistent about using earbuds, you can use some home remedies to heal it faster. The best way is to use salt water for five minutes at least once daily.
There are other ways to use earbuds in daith piercing, and we will discuss them all. 
Do You Know?
The Daith piercing is not just a fashion. It also helps to achieve some health goals. Daith piercing is said to heal anxiety-related problems related to migraines. 
Some Tips to Wear Earbuds With Daith Piercing:
There are multiple ways to use earbuds with daith piercing, and some tips are part of it. We have listed these parts for your better understanding.
Tip 1: Comfortable Volume
The first and most crucial part of using earbuds with daith piercing is to listen to music at a medium sound.
Keep the volume that is comfortable for your and your ear parts. Listening to music that doesn't hurt your piercings. Significantly if your piercings are not healed properly, you listen to high-volume music. It can take you to intense medical conditions.
Maintaining the correct volume is helpful even without daith piercing as well.
Tip 2: Straight Posture
While listening to music on earbuds with daith piercing, it is imperative to maintain body posture.
Some people lie down on the ear that has daith piercing and keep listening to the music. This act can bring some horrible results. It's better to sit straight or walk straight while listening to the music on earbuds. Also, one more thing you can do is use a travel pillow instead of a regular pillow. It helps to keep good blood pressure around the ears.
A straight posture while sitting or standing is mandatory for healthy music listening with daith piercing.
Tip 3: Flip Direction
This tip is only guaranteed to work in some scenarios. Your size of earrings in daith piercing plays a vital role in this remedy.
You can flip both sides of the earbuds, i.e., put the right earbud in your left ear and the left earbud in your right ear. It changes the direction of the volume speaker from the piercing to the downwards a bit.
Flipping the sides is a pure home remedy to use earbuds with daith piercing. 
Do You Know?
It is believed that Daith Piercing can assist with weight loss because the ear has several acupuncture points interrelated to the stomach. Working on these acupoints can cause the stomach to experience fullness, which in turn leads to a reduction in the amount of food that is consumed.
What Type of Earbuds Can You Wear with a Daith Piercing?
The general perception is that we cannot use earbuds with daith piercing. Some exceptions are available to this general perception. One of these exceptions is to use home remedies for quick healing. Another one is to use a specific type of earbuds.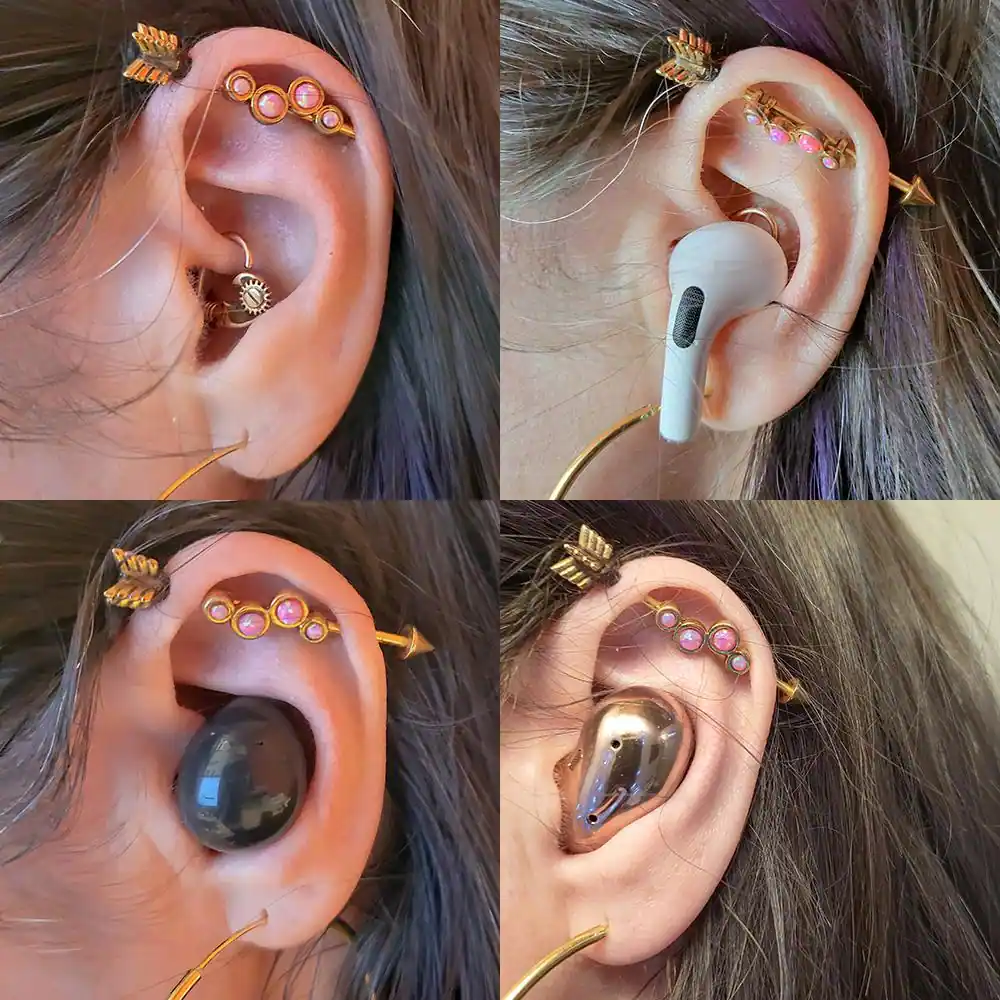 We have mentioned a specific type of earbuds that can become your favorite partner for regular music listening.
Type 1: Over the Ear Earbuds
These earbuds come at the top of the list when talking about piercings. The primary reason behind their success is that they are not dependent on the ear only.
Over-the-ear earbuds are rolled over the years for better engagement. We don't put them in our ears like we put other earphones in our ears. Instead, we wear them the way we wear hearing aids and roll them around the ears. Also, these earbuds come with rubber padding that allows comfortable wearing the whole day. You might be curious about these earbuds' quality. Don't even worry about that. These earbuds use interconnected wire for low latency and 40 mm speakers for improved quality.
When healed completely, Daith piercing will be a perfect partner with over-the-ear headphones. Their built quality, speaker size, and comfortable wearing make them an amiable partner with daith piercing.
Type 2: Custom made Earbuds
The second in our list are custom-made earphones that perfectly match your ear size.
Custom-made earbuds mean you can give your ear size to the manufacturer. You can also tell them your requirements, such as in-ear or over-the-ear earbuds. Most custom-made earbuds are in-ear technology. In-ear means their woofer size will be according to the free space in your ear. It will fit in directly and not hurt your daith piercings. All you need to do is to maintain a moderate volume level for this purpose.
Custom-made earphones are typical for people with daith piercings; people with daith piercings can enjoy their music without inconvenience, thanks to the custom-made offerings.
Type 3: Bone Conduction Earbuds
After listing over-the-ear headphones, bone-conducted earbuds are a must-entrant in this list.
These earphones work differently as compared to standard earphones. Regular earphones send the sound through the air to our ears. Bone Conduction earphones transfer the sound with the help of bones in the jaw and chicks. These earbuds are designed not to need to be put in our ears. Bone conduction earbuds will transfer the sound through bones passing the eardrum and doing the work.
Bone conduction earbuds are a unique item in the market, and fortunately, they are perfect for daith piercing.
Type 4: Foam tip Earbuds
The material of the earbuds plays a vital role, mainly when used with daith piercing. Keeping that in mind, you are suggested to use foam tip earphones.
Two earbuds are famous in the market: foam tip and silicone. Foam tip earbuds are surrounded by high-quality foam that is too comfortable to be used. While using earbuds with daith piercing, soft quality is a must-have thing. When you use this type of earbuds with daith piercing, it will fit in the ear canal very comfortably. That is what makes these types of earbuds the finest choice for you.
Silicon earbuds are cheaper and more sturdy than foam-tip earbuds. But comfort matters the most, and foam tips win the race.
FAQ'S:
Do daith piercings interfere with earbuds?
It depends on two different things. One is the type of earbuds used. It will hurt if you are not using the specifically suggested earbuds with daith piercing. Also, interference depends on the condition of your piercing. If it is healed, it may not disturb you anymore.
Can you wear Apple AirPods with a daith piercing?
Using AirPods depends on the size of your ear and the condition of your piercing. It is best to let your piercing get healed first. After that, if your AirPods fit entirely in your ear canal, it can work. If your ear canal is small and has been blocked by the earring of a daith piercing, using an AirPod is not a good option.
How to make the daith piercing heal faster?
Daith piercing is the most challenging type of piercing in the world. It is said to have many health benefits, but it takes longer than 6 months to be healed. It usually takes 6 to 9 months for this piercing to be healed. For faster healing, you can apply salt water to it daily. Do this process for five minutes and two times a day.
Is silicon tip better than foam tip?
Silicon tip is better than foam tip if you talk about built quality. They are made of a sturdy design that can last longer than foam tips. But foam tips are more comfortable to be used and also give better sound quality. We can call it a tie between foam tip and silicon tip.
Can I put earbuds in and lay down on daith piercing?
No, you can't lie down or even bend when using earbuds with daith piercing. It can
lead to a severe medical condition. You are supposed to keep a straight posture when using earbuds with daith piercing. Whether sitting or walking, no bending is allowed with the earbuds and daith piercing.
Final Words:
We know you are a music lover, which kept you reading this post. Being an audio lover and enjoying stunning looks with daith piercing is possible together.
When you have done the procedure of daith piercing, you should let the piercing heal as fast as possible. After that, you should apply some salt water regularly for quick healing. It is not a good idea if you are thinking of using standard earbuds with daith piercing. Using standard earbuds can lead to severe ear health conditions. Also, we have mentioned some types of earbuds that are the best match for the Daith piercing. 
The rule to use earbuds with daith piercing is obvious; you either follow the instruction or forget the music.