How To Connect Bluetooth Headphones With Oculus Quest 2 In 2023
How To Connect Bluetooth Headphones With Oculus Quest 2? If you need a one word answer to your query, then it is a Yes. For a detailed explanation, you are required to read this post till the end. Get your answers below!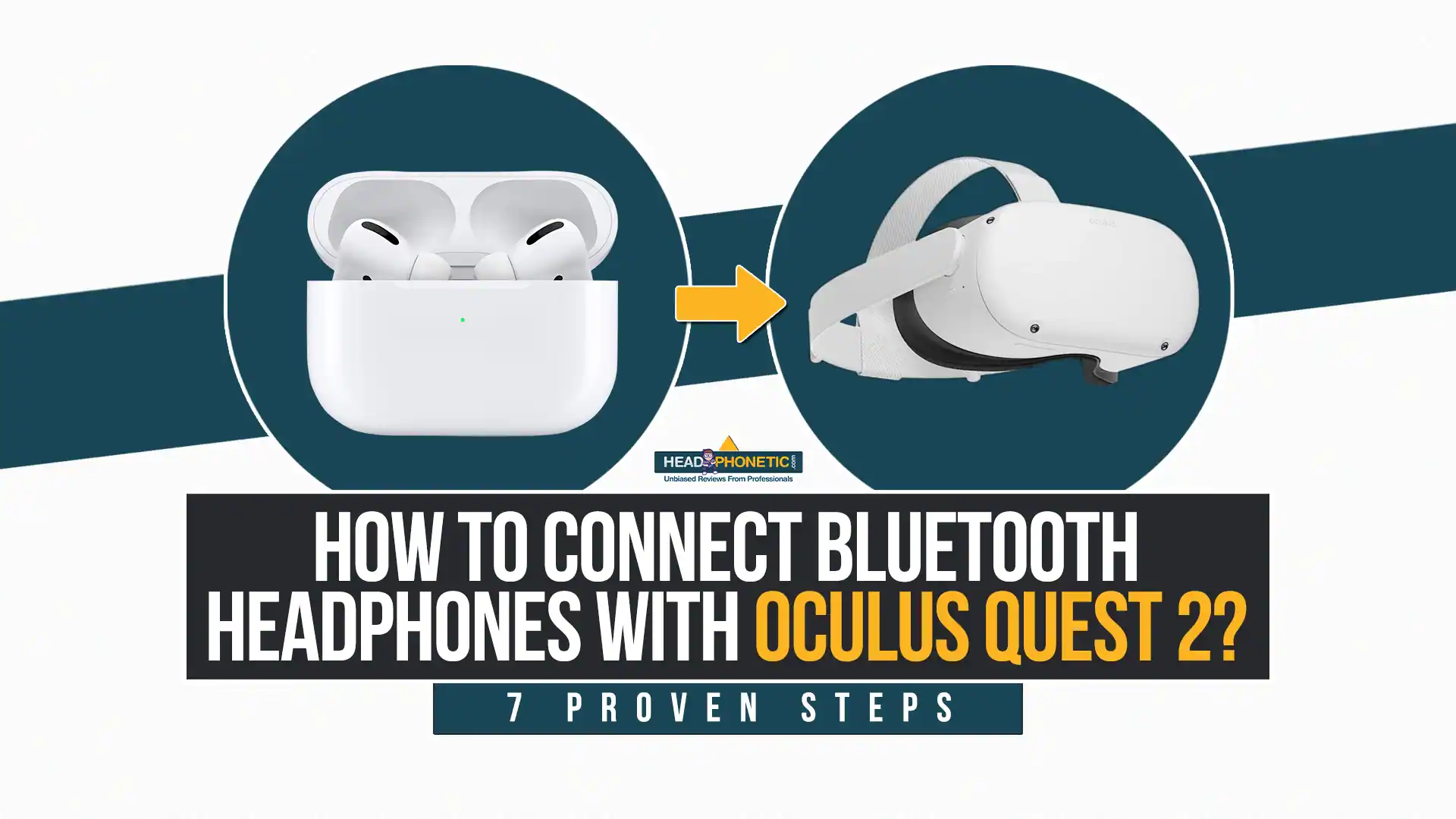 But before we dig more into the topic, let's read about the Oculus Quest 2, how it works and why you need a headset with it.
Oculus Quest 2 Bluetooth Headphones Compatibility:
As per the official producers, compatibility of Oculus Quest 2 with Bluetooth headphones is not mentioned anywhere!
The statement on their support pages states that the Quest 2 supports USB-C headphones as well as 3.5 mm headphones. Hence, no mention of Bluetooth support.
However, the good news is that: there is a tried and tested way to connect your Bluetooth headset with Oculus Quest 2, all thanks to its experimental features.
How To Connect Bluetooth Headphones With Oculus Quest 2?
To connect your headset with Bluetooth, you are required to enable Experimental Features. You can also pair your AirPods with Oculus Quest 2.
Just follow the given steps and you are good to go!
Step 1: Power On Your Quest 2
The power button is present on the right side beside the charging indicator. Hold the button for a few seconds and slide the device down your face. Once the image is clear, now you know it is connected.
Step 2: Open Settings from the menu of Quest 2
Press the Oculus icon present on the right Touch controller. This will pull up a universal menu.
Step 3: Choose Experimental Features
Reach out to the left side of the menu and select the Quick Settings option to view the list.
Now choose Settings and then Experimental.
To begin pairing, select the toggle right beside Air Link.
Select Continue after reviewing Air Link requirements.
Step 4: Turn on your headphones
Switch on your Bluetooth earphones as usual. Hold the power button from the control panel for a couple of seconds and wait for the system audio to say Bluetooth Connected.
Step 5: Pair Both Devices
Activate the pairing mode on your headset by holding the power button until the indicator light starts blinking.
Your VR will show a pairing code at this point.
If you can't see any code, restart the device or check for software updates.
Step 6: Now Search For The Earphones
On VR, the list of available Bluetooth devices will start appearing. Search from the earphones and select it.
Step 7: Enter Pairing Code
Upon selecting the earphones, if the device asks for any code or pin, enter 0000 and that's all. You can use the same method to pair your AirPods as well.
Do You Know?
Note that this solution is not officially declared so expect compatibility difficulties. All wireless headphones may not operate this way. Hence, if you see any trouble in the connectivity, don't think that your headset has issues. 
Possible Compatibility and Performance Issues in Quest 2 With Bluetooth Headphones:
If you wish to use your Bluetooth headphones with Quest 2, then there is no harm in doing so.
Using additional audio accessories won't affect your Quest nor it can void your warranty. Just be mentally prepared for possible disappointing experiences. 
Since the above-mentioned procedure is not officially declared, expect some technical issues, such as audio lagging, syncing problems, etc.
Mostly, users find such difficulties while playing games rather than using apps, like Netflix. In fact, the cluttering difficulties in games can be severe enough to make them unplayable.
Is There Any Solution To These Issues?
You may have to buy a Bluetooth transmitter and plug it into a 3.5mm socket on Quest 2.
Also known as an AV receiver, the aim of this device is to intensify the processing of video input and wireless audio. Consequently, you can enjoy an ultimate, improved experience with a VR headset.
It is seen that the average latency of 40 milliseconds should be expected with this approach, which is merely noticeable.
Note that: The response rate in different models of headsets may vary.
Connect Transmitter With Quest 2 For A Smooth Bluetooth Connectivity
Firstly, you would need a 3.5mm audio jack for connection.
Attach the transmitter with Quest 2.
Make sure it is tied properly. You can use Velcro for this purpose.
Don't worry about the extra weight after tying up as it will be almost undetected later.
Connect the audio to all three devices: headphones, transmitter and the Quest.
Use the above-mentioned connectivity methods to pair Quest 2.
Oculus Quest 2 – An Overview
It is a virtual reality equipment that is packed with hundreds of apps, games, experiences and entertainment activities. Oculus Quest 2 is also known as one of the most accessible virtual reality headsets present in the marketplace.
The best part is that; the device supports standalone functionality and doesn't require a PC. Only a smartphone is needed to manage the Oculus device and access various games.
Just make sure your equipment is charged, insert the AA batteries in controllers and that's all. Enjoy the VR action experience!
Can We Use Bluetooth Earphones With Oculus Quest 2?
Apparently, every Oculus Quest 2 owner wants to know the answer!
The device already has an inbuilt audio system. So, if you don't use any additional accessories, there should be no problem. However, in order to avoid distractions or for a smooth audio experience, added earphones can be a savior.
Now the question is, will the wired or Bluetooth headphones work with Oculus Quest 2? And the answer is yes but it is suggested to read the explanation before reaching a conclusion.
Final Words:
If we have to put the post together in a few sentences, then it would be fair to say that pairing Bluetooth headphones with Oculus Quest 2 is totally optional.
This is because Quest 2 has an inbuilt audio system. However, users have been facing problems with audio-visual lately. If you are also one of them, then there is no harm in using Bluetooth headphones with the device.
The pairing method of Quest 2 and Bluetooth headphones is quite simple and easy. Regardless, expect some compatibility issues with these devices since no official statement has been released for Bluetooth compatibility.
I hope this post has helped you. Just follow the given tips and tricks and enjoy the best VR experience!