Do You Need Headphones For Binaural Beats | Let's Disucss In 2023
Binaural Beats have become very popular for helping people achieve their personal goals. They are available on free and paid platforms and can help you relax and de-stress. It's important to note that Binaural Beats only work with headphones. Do you need headphones for Binaural Beats and know how they work and find alternative options, keep reading until the end.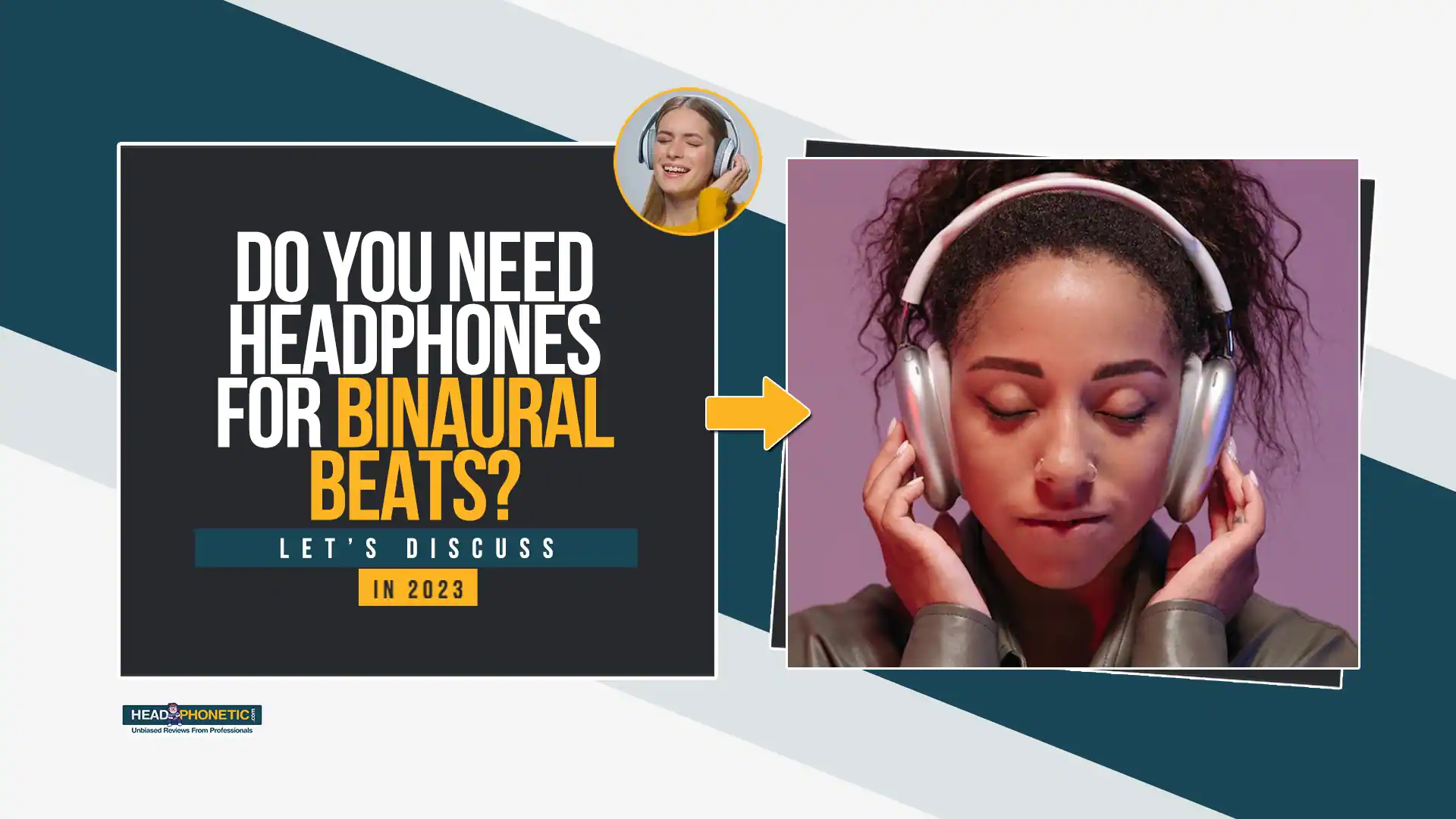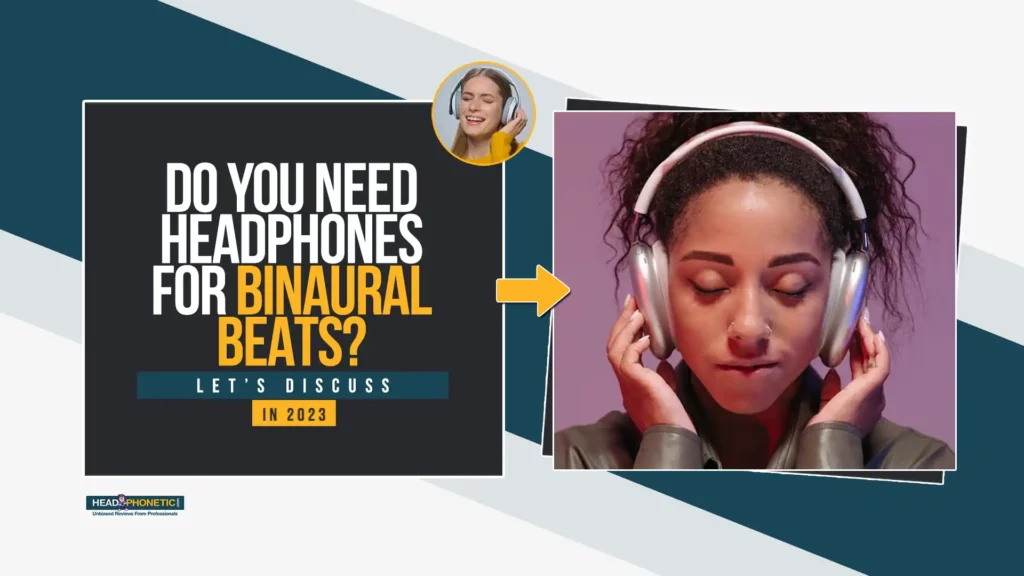 But if are looking for a solution How To Make Headphones Fit Small Head? Then you can read this article.
What Are Binaural Beats?
An auditory phenomenon known as binaural beats happen when two somewhat different frequencies are supplied to each ear individually.
The brain interprets the difference between the two delivered frequencies as a third frequency through a process known as entrainment. The effect is frequently applied to audio recordings to stimulate particular brainwave patterns, such as those associated with relaxation, focus, or sleep. People who use headphones can experience a synchronized brainwave state that aligns with the desired result by listening to binaural beats.
Binaural beats are gaining popularity as they may aid in meditation, relaxation, and cognitive enhancement.
Do You Need Headphones For Binaural Beats?
Binaural beats work on different phenomena than other sounds, requiring both sides of the headphones to be intact.
Utilizing headphones to profit from binaural beats to the fullest extent possible is crucial. They provide stereo separation, which allows for a separate frequency to be received by each ear. This guarantees that you precisely perceive the desired binaural beat frequency and blocks out outside distractions, making the experience more productive.
If you are thinking of trying binaural beats with one side of earbuds or headphones only, it will not deliver the desired results.
What Are The Benefits Of Binaural Beats?
You might have heard about the hype of binaural beats, but right now, you need clarification on what exactly binaural beats are and their benefits. These are specific types of sound beats that help us to relax and achieve personal goals. The type of sound depends upon your goals and conditions. Here is the list of benefits you can achieve from Binaural beats.
Some Best Sources To Listen To Binaural Beats:
Binaural beats differ from regular beats that anyone can make or share. Finding the beats relevant to our goals is a hard nut to crack. Many paid and unpaid sources are available around the globe, and we have listed the most important three sources.
Possible Substitutes To The Binaural Beats:
Binaural beats have gotten a significant rise in demand due to their performance. Still, critics and studies state that Binaural beats are not the perfect or consistent source of brain entertainment.
Do You Know?
Putting different frequencies into the brain to get it to work in different manners is called brain entertainment. Binaural beats are one of the auditory sources used to entertain the brain. 
A study stated that frequency differences between both tunes are normally around 10 Hz only, which is not enough to change the state of the Thalamus.
Thalamus is part of the brain that connects our brain tissues and other fibers. Experts say you need a better frequency response to activate Thalamus. For that purpose, they suggest two alternatives that can be a better choice. Here are the details.
Do You Know?
In 1879, physicist Heinrich Wilhelm Dove introduced binaural beats and published his findings in the journal Repertorium Der Physik.
Different Binaural Beats To Search For:
Binaural beats are classified according to the frequency level, such as 4 Hz, 2hz, etc. Here is the list of the most used binaural beats and their goals.
What Headphones Are Good For Binaural Beats?
Now we are coming to the very crucial part of our discussion. The point is that it is useful if you are listening to the binaural beats with the perfect match of headphones. So we will list the features that must be checked before purchasing the headphones for binaural beats.
FAQ'S:
What is the difference between binaural and monaural?
There are slight differences in how Monaural and Binaural beats work, which have significant effects. While both types of beats operate on two different frequencies, Monaural beats generate their mix of frequencies at the sound production device's beginning rather than the end of headphones. This means that Monaural beats can be heard through just one ear cup.
What are the benefits of Binaural beats?
Binaural beats are created when two different levels of frequencies reach our ears from both sides and then the brain creates these beats called binaural beats. Binaural beats are used to achieve different goals to make our lives better. It is used to heal sleeping disorders, anxiety, and many other personal development-related problems.
How many Hz are binaural beats?
Binaural beats are different and classified according to the frequency range. Mostly it ranges from 1 to 30 HZ and is used for personal development, anxiety, sleeping disorders, etc. Binaural beats ranging from 30 Hz or upwards are counted as more intensified and related to consciousness.
What is theta beat?
The binaural beats ranging from 4 Hz to 8 Hz are called theta beats. Theta beats are among the most used and influenced beats of all types. It is used to remove anxiety and other anxiety-related medical issues.
Are binaural headphones comfortable to wear on the couch?
It depends on the quality of the headphones you are using. Most people like to listen to the binaural beats while they sleep. So they use expensive headphones that are flexible and extremely comfortable to wear. These types of headphones can also be used on the couch with ease.
Conclusion:
Binaural beats can be handy for achieving many personal goals, but it depends on your headphones' quality.
To properly hear binaural beats, it is important to use stereo headphones. These headphones allow the sound to be passed differently through each ear cup, which is necessary for experiencing binaural beats. While binaural beats can help address medical conditions like anxiety, depression, and sleep disorders, they are especially effective for boosting motivation.
Enhance your abilities and boost your productivity at work by listening to binaural beats with high-quality headphones.