How To Reset IClever Headphones | Step-By-Step Guide In 2023
You may have bought your favorite model of iClever headphones, but they don't work well with your cell phones. There could be more than one reason, but the most common one is that the headphones' memory is full. It could be full, and returning the headphones to factory settings will fix the problem.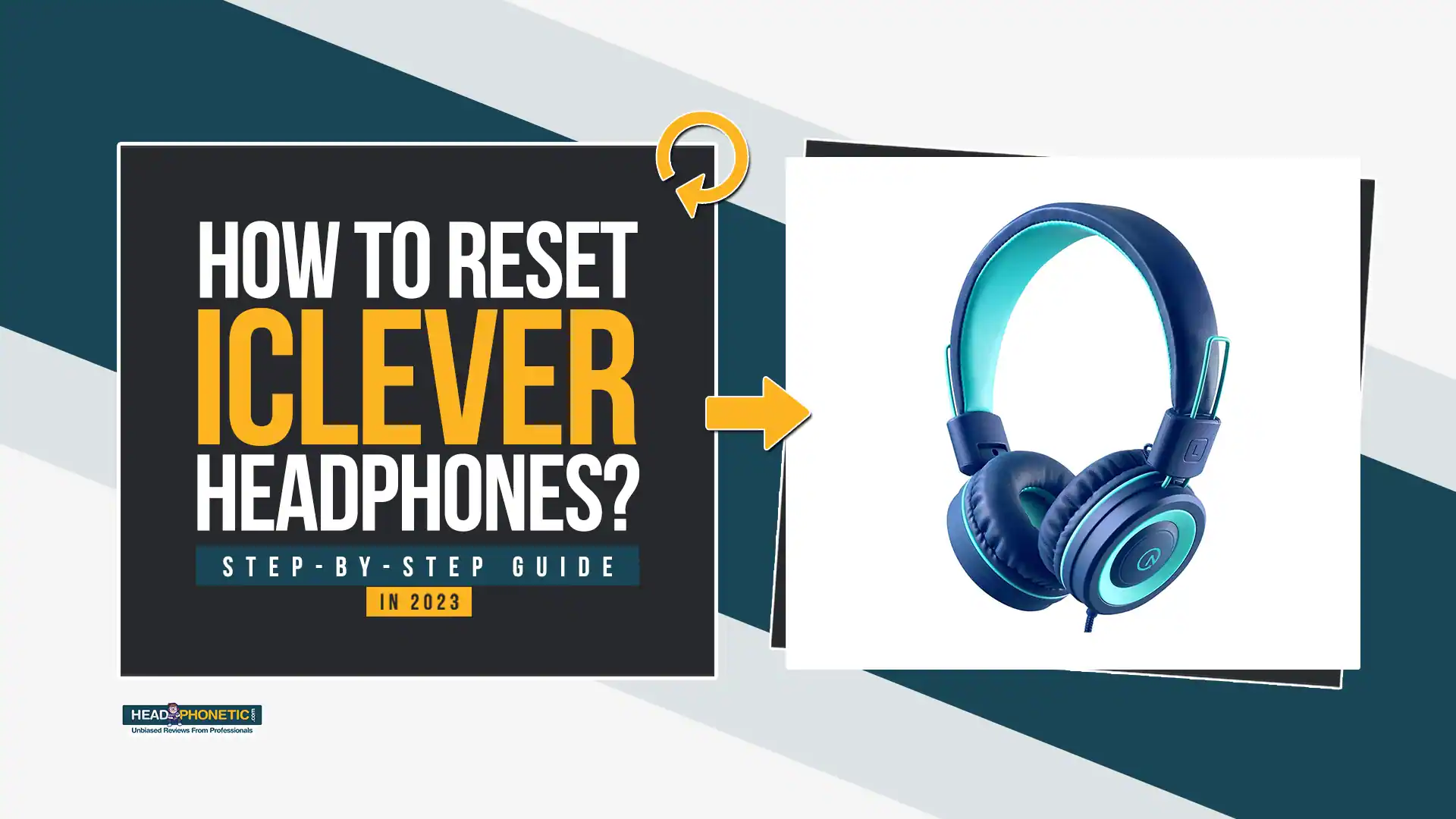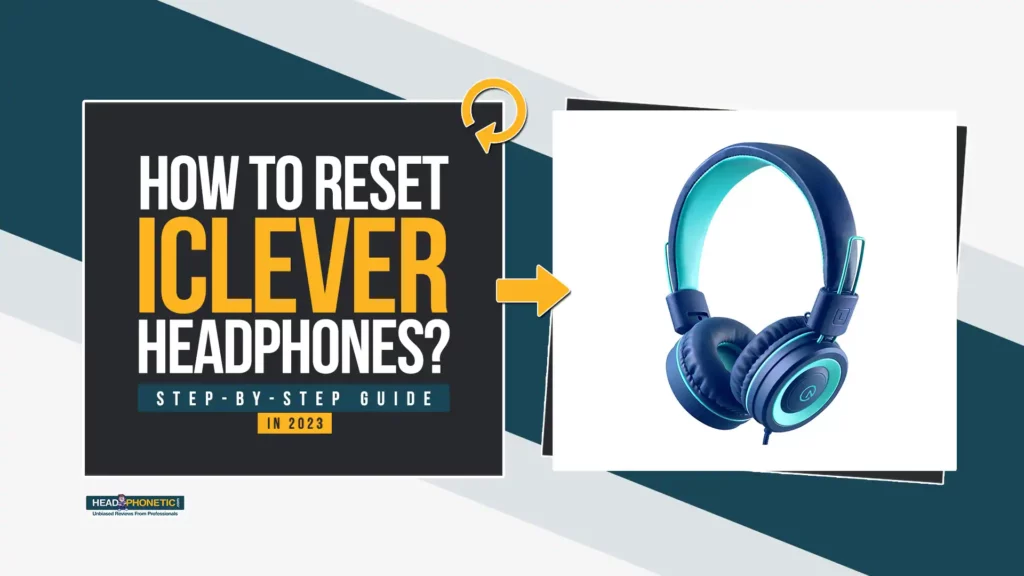 You don't have to worry about the process because we'll tell you how to reset iClever headphones fully. Also, this method will be the simplest DIY method that doesn't need any technical steps.
But if your headphones losing grip and you don't know how to increase clamping force on headphones, then you can read this blog to get all answers.
What makes IClever Headphones so special?
IClever has launched multiple headphones in the market that target different age groups. All of its models are worth buying.
Especially if we talk about the kid's headphones of iClever, they are the best. They come with a beautiful plastic design that is made to fit on every child's head. Its volume control and volume range have also been made according to the children. Suppose we talk about the other headphone models made for adults. They also come with a long list of features. Some features include Bass forward, sound customization, and clear sound signatures. 
Overall, iClever headphones are one of the finest choices in the market. They provide cute headphones with a comfy design and clear sound and a volume range set for child headphones.
How to Reset IClever Headphones?
IClever headphones are of different kinds, and the procedure to reset these headphones vary from model to model.
We will provide different resetting ways, so you can do this process comfortably. We have three different methods for resetting iclever headphones.
Reset IClever Headphones Using the Volume Buttons
Reset IClever Headphones Using Multifunction Button
Reset IClever Headphones Using DIY Universal Method
How To Reset IClever Headphones Using Volume Buttons?
Follow the given steps to reset your iClever headphones. Resetting the headphones will clear their memory and help them connect to phones conveniently.
Step 1: Charge the Headphones Completely.
It does not matter what sort of headphones you are using, but what matters is its full charging. Bluetooth headphones are completely dependent on their charging. So before you go for the reset procedure, You are suggested to charge it completely as it consumes energy.
Step 2: Turn On Headphones
On one side of your headphones, there are different buttons placed. One of those buttons will be the power button. It can be a simple push button or toggle switch, depending on the model of your headphones.
Push the button, and the blue light will flash for one second, then become a colorful flashing light. It means the headphone's power is on now.
Step 3: Push and Hold the Volume Buttons
This step is the most crucial in this process. It can make or break the purpose of following all the steps. Hold the volume up and down buttons together for 4 seconds. The volume up button will have a + sign, and the volume down will be a – sign.
Step 4: Check the Light's Status
Leave these buttons after four seconds, and it will automatically move to the pairing mode. You can check its pairing mode with light status. Once it has entered the pairing mode, it will be visible in your mobile list.
Step 5: Check the Pairing Mode
The reset has been completed if it is available for pairing in the mobile, and its light status is normal as a pairing mode or paired devices should be. All of its previous memories have been raised.
I hope this process is convenient for you. This reset process is suggested for BTH12, BTH13, BTH16, and BTH19 models of iClever headphones. Once the reset is complete, you can enjoy a sturdy Bluetooth connection.
How to Reset Using Multifunction Button?
Now we will focus on another way provided by iClever to reset the headphones. You can follow it in certain models only. Just follow the step-by-step guide to reset your headphones.
Step 1: Charge it Completely
The first part is the same for every model: the charging. Before resetting, it would be best if you charged the headphones sufficiently. Sufficient charging will do the job with ease and grace.
Step 2: Turn the Headphones ON
In this step, you are supposed to turn on your headphones. Use the power button provided in your headphones to turn it on. Its power-on status can be verified by looking at its LED light status.
For power on status, some models flash a blue LED, while others flash a colorful light.
Step 3: Press the Multifunction and Down Volume Buttons
Now we are at the most important part of this process. In your headphones model, a multifunctional button will be right between the Volume up and down buttons.
Press and hold this MFB button with the Volume Down button together for 5 seconds.
Step 4: Check the Pairing Mode
Right after you leave the buttons after holding them for five seconds, its LED lights will flash. The flashlight will be according to your model, but it will probably be a blue and red colored light flash. This light status tells us that the headphone is ready to be paired and is now in pairing mode.
Step 5: Enjoy Your Music
The reset has been completed when the light flashes and the pairing mode is on. Now you can connect it using Bluetooth on your mobile phones. The memory of headphones has been erased.
This process of reset is the official one for BTH15 and BTH16. You can also try this process to reset other related models of iClever. Reset erases the complete memory of headphones, including your current phone.
How to Pair Using the DIY Method?
Suppose your iClever headphones faiLED to reset even after following the required procedure. You can try this hack at home. It is a universal way to reset headphones, you can try on any brand and model. Follow the given steps.
Step 1: Charge it Completely
For this method, charging is also necessary. It will require turning off and on again sometimes, so it will consume the battery. It would be best to fully charge your iClever headphones before applying this resetting method.
Step 2: Keep its Power Off
We all know the LED light status of the headphones when the power is on. Now you need to turn the power off by pushing and holding the power button for 1 or 2 seconds. Its LED lights will turn off, and you will leave the button.
Step 3: Hold the Power Button
After turning off the power of your headphones, you will hold the power button pushed for 10 seconds. This step is very important, so do this step with justice. Hold the power button for 10 seconds, and the LED will start flashing rapidly.
Step 4: Press the Power Button
When the LED light flashes rapidly, you quickly press the power button twice. It will help if you are very resilient with this step. It will complete the reset procedure if done properly.
Step 5: Check LED Status
If you press the power button twice quickly, an LED light will flash. It will flash three times quickly. This is a sign that you did the reset correctly.
Step 6: Restart the Headphones
It will help if you restart the headphones when the light flashes three times quickly. First, turn them off using the power button, wait for five seconds, and turn them on. Turning on the headphones will take them to pairing mode.
Step 7: Check the Pairing Mode
After following these steps, you can use these headphones conveniently. This process has been done, and resetting the headphones has erased all their memory. It will go to pairing mode now and appear on your mobile phone list.
This reset procedure is not an official procedure. It is the tech hack shared by some tech giants. It works on some models of iClever headphones. Before you apply these changes, it is best to know that these steps can erase the memory of your headphones.
FAQ'S:
Do iClever headphones have a microphone?
iClever headphones also have microphones but only some of them. IClever HS21 is one of those models that has a great microphone added to it. HS21 is not a Bluetooth headphone, as it comes with a wired connection.
How do I put my iClever headphones in pairing mode?
Most iClever headphones have a button to turn them on and off. If you press the power button for a second or two, the blue light will flash. When you turn it on, it goes straight to pairing mode. Each model has a different color and way that the lights flash.
Is iClever a brand of headphones made just for kids?
IClever headphones have made some amazing features for kids' headphones. But they also have headphones for adults. Prices range from one model to the next. IClever is mostly a brand for kids because its volume range is control LED for them.
How long does it take for iClever headphones to charge?
It takes time to charge the battery in iClever headphones varies from model to model. Its best headphones can work long and can be charged in two hours. This battery time clearly shows how good iClever's products are.
Why are my iClever headphones not turning on?
How to turn on headphones depends on how good the battery is. Either the battery in your headphones is not charged enough, or it is broken.
Final Words:
iClever headphones are known for their smart features in the market. This manufacturer has won a huge market in a short time.
Image
Product
Details
Price
K11 Headphones
Type: Over-ear
Connection: Wired
Check Price
Bluetooth headphones have some problems overall, and one of these is connection problems. When the headphones' memory has filled, connecting can be an issue. It will be great to reset the headphones. A factory reset can provide you with a convenient connecting experience in the future.
We have listed different ways to reset your iClever headphones. Follow the desired one, and you will love to enjoy the music afterward.