How To Pair Cowin Headphones | Step-By-Step Guide In 2023
Cowin headphones are known for their superior sound quality and built material. They give a classy look to everyone who wears it.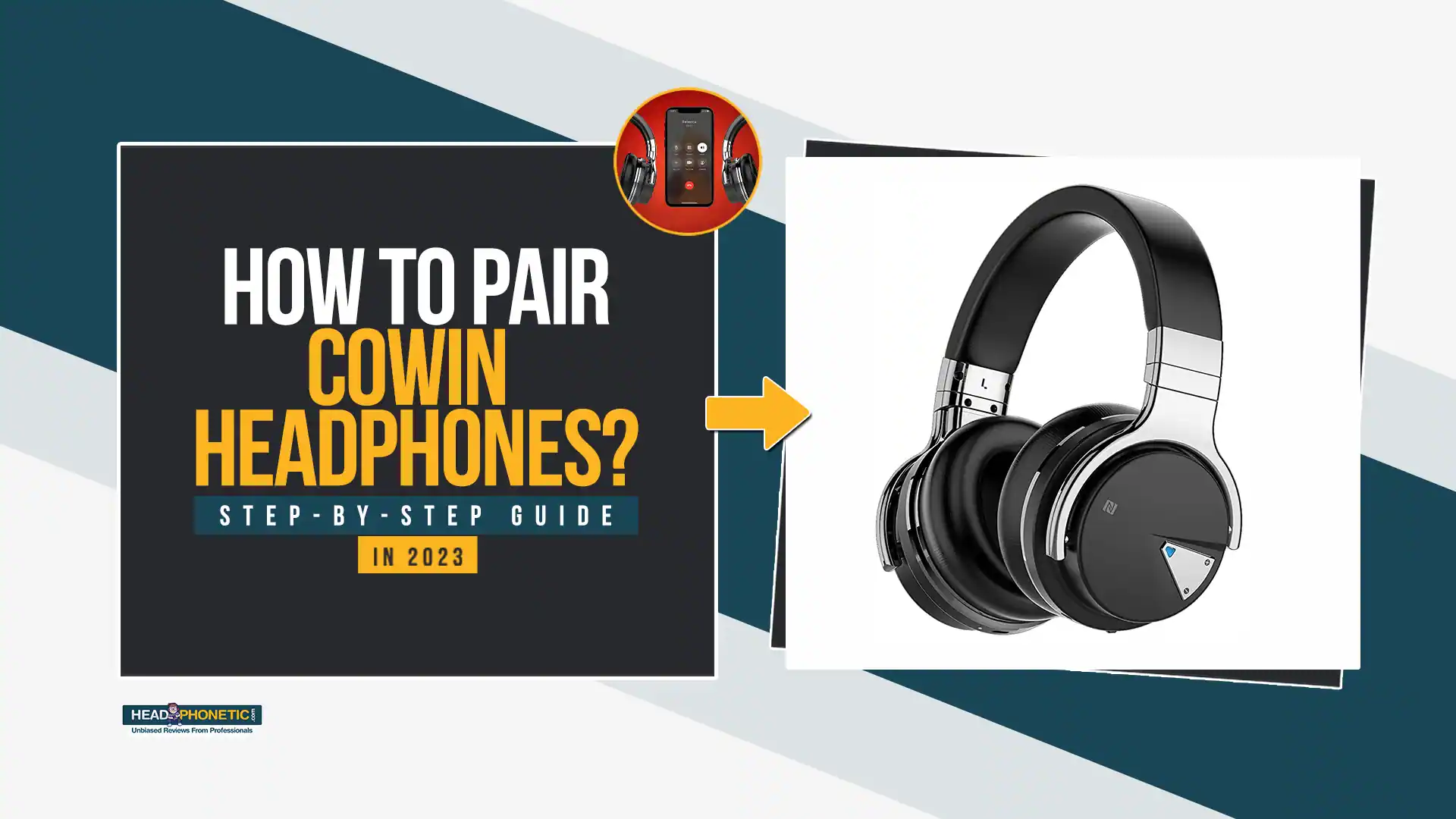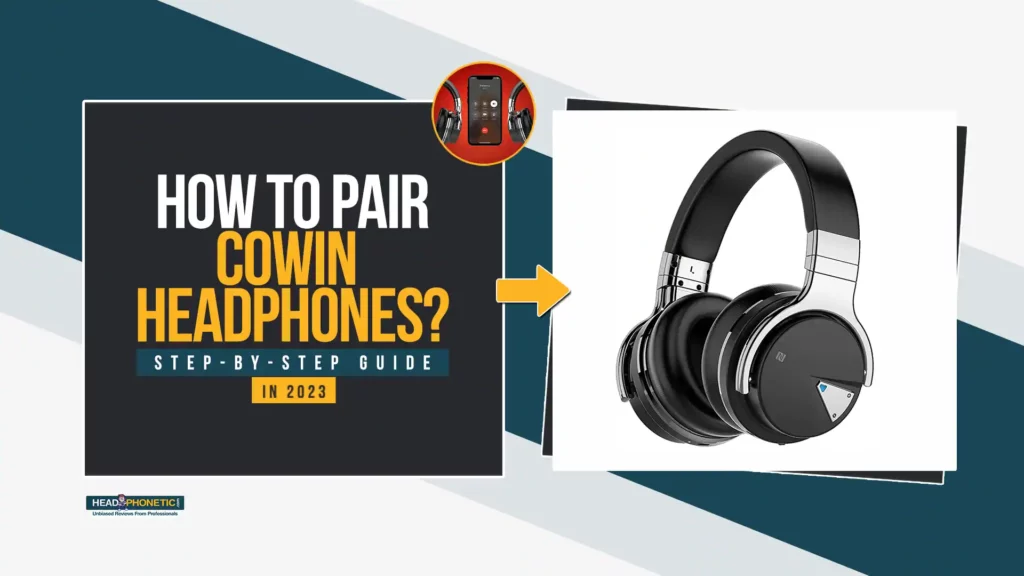 The latest models of Cowin headphones can quickly provide a connection range of 10 meters, which is better than many expensive products in the market. If you have purchased one, then you are a lucky one. Now you might be having difficulty connecting these headphones using Bluetooth or NFC.
It is okay because the outer shell of Cowin headphones is usually different from regular products, so that might be why you are not getting the right way to connect.
We have listed all the steps you need to know how to pair Cowin Headphones on your device, whether Android, Windows, iPhone, or Mac.
But if are looking for a Philips PH805 and Sony WH-1000xm3 headphones comparison, then you read this article.
What Drives the Popularity of Cowin Headphones?
Cowin headphones enjoy excellent reviews on websites such as Amazon and Walmart. There are multiple reasons behind it.
Image
Product
Details
Price
Cowin ANC Wireless Headphones
Type: Over-ear
Connection: USB
Battery Life: 20 hours
Check Price
One of the main reasons is its monetary value. Its versions are priced under USD 90 and include every advanced feature required in headphones. One of its most successful models, the E7, has a playback time of 30 hours. Other models have excellent noise cancellation, Bluetooth connectivity, latency rate, and, most importantly, built design.
As the saying goes, "The first impression is the last impression." Cowin headphones are highly gorgeous and draw attention.
Cowin has made a reputation for itself with its outstanding offers. They are designed to dominate the mid-priced headphones market.
How To Pair Cowin Headphones?
Before we start Bluetooth settings on the device, we need to take out the headphones to pairing mode. So first, we will discuss the steps to turn on the pairing mode, and these steps will be the same for every device. Here is how to turn it on.
First, the Cowin headphones are to be entered into the pairing mode. You need to turn on these headphones. Press the power button given at the backside of the right earcup. The place of the button might vary according to the mode. Press the power button, and it will be turned on.
If you have recently purchased your Cowin headphones and are now going to connect them to your device for the first time, then you need to press and hold the power button for 2 to 3 seconds. Its light will start blinking, and the blinking LED light is a sign that Cowin headphones are now in pairing mode.
1. How to Pair Cowin Headphones with Android?
Now the Cowin headphones have entered the pairing mode, and we must move to our device. If you are using an Android device, you should feel relaxed because connecting these headphones to Android will be effortless. First, enter your headphones into pairing mode and follow the given steps.
2. How To Pair Cowin Headphones with WindowsOS?
If we talk about the latest versions of Windows and the latest generations of laptops, they mostly come with Bluetooth built-in features. You can connect your Cowin headphones to the laptop as well. Here is how to do it.
3. How To Pair Cowin Headphones with iPhone?
The iPhone Bluetooth settings are similar to the Android settings. But we have listed the complete settings to help you out. Follow the steps.
4. How to Pair Cowin Headphones with MacOS?
The Mac operating system is quite different from Windows and other operating systems. There is a mix of reactions to the use of Mac. People who use it regularly call it the most convenient OS. Let's see how we can connect our Cowin headphones to it.
How To Pair Cowin Headphones Using NFC?
Do You Know?
NFC, or Near Field Communication, is a unique feature of different devices nowadays. It is a radio-type communication feature that is used to connect the devices. The NFC chip is mainly placed in the middle of the backside of the earcups. Just tap on it with your device or bring it near, and the devices will be connected. 
If we talk about the popularity of Cowin headphones, the value of money is the most critical factor. Cowin headphones also provide the NFC connection option.
Turn on the NFC on your mobile device or any device with the NFC feature. This option is mainly given on Android devices. After turning the NFC on, put your mobile device close to any of the earcups. Put it that close like you are tapping it on the backside of your ear cup. It will pick up the connection, and the headphones' light will turn blue.
It might ask you to enter the passcode to enter 0000 for it. Now the mobile and headphones are connected using NFC. This feature is more convenient as compared to the simple Bluetooth feature.
FAQ'S:
How long do Cowin headphones take to charge?
Cowin headphones have many models. Suppose we talk about the latest models like E7 or later models. They take 3 to 4 hours to be charged entirely. Their playback time is also very healthy.
Do Cowin headphones have a mic?
It depends on the models of Cowin headphones, but most of them come with mics and ANC features. Active noise canceling with good-quality microphones suits live gaming and calling experience.
Is Cowin a good brand?
Cowin is known for providing value for money. Its highest grossed and latest models are available easily under 90 USD. Cowin offers all the required features, such as ANC, fast charging, long battery backup, and a sturdy, beautiful design with comfortable earcups.
What is the battery life of Cowin E7 headphones?
Cowin e7 headphones are one of the highest-sold headphones around the globe, especially on the internet. It has more than one variant. All of them can provide a playback time of 30 hours quickly.
How do I reset my Cowin wireless headphones?
You can reset your Cowin headphones by using its power button. Press and hold its power button for 15 seconds. Now delete it from your mobile device. Restart the headphones and connect them to a new device.
Conclusion:
Cowin headphones have made their name in the market by providing marvelous features.
It offers a beautiful design, good playback time, and, more importantly, a healthy Bluetooth connection. Not just the Bluetooth connection but it also has an NFC installed for the connection. Cowin headphones can provide a range of 10 meters with a Bluetooth connection. It also has a beautiful LED lights system that gives us the connection status.
Overall, the Cowin headphones can be connected to all Bluetooth devices gracefully. If you need help connecting, you must be missing a step. Follow our step-by-step guide for ease of connection.