How To Stop Headphones From Changing Volume | Let's Discuss In 2023
Headphones are a great way to enjoy entertainment, but it can be frustrating when they start changing the volume on their own.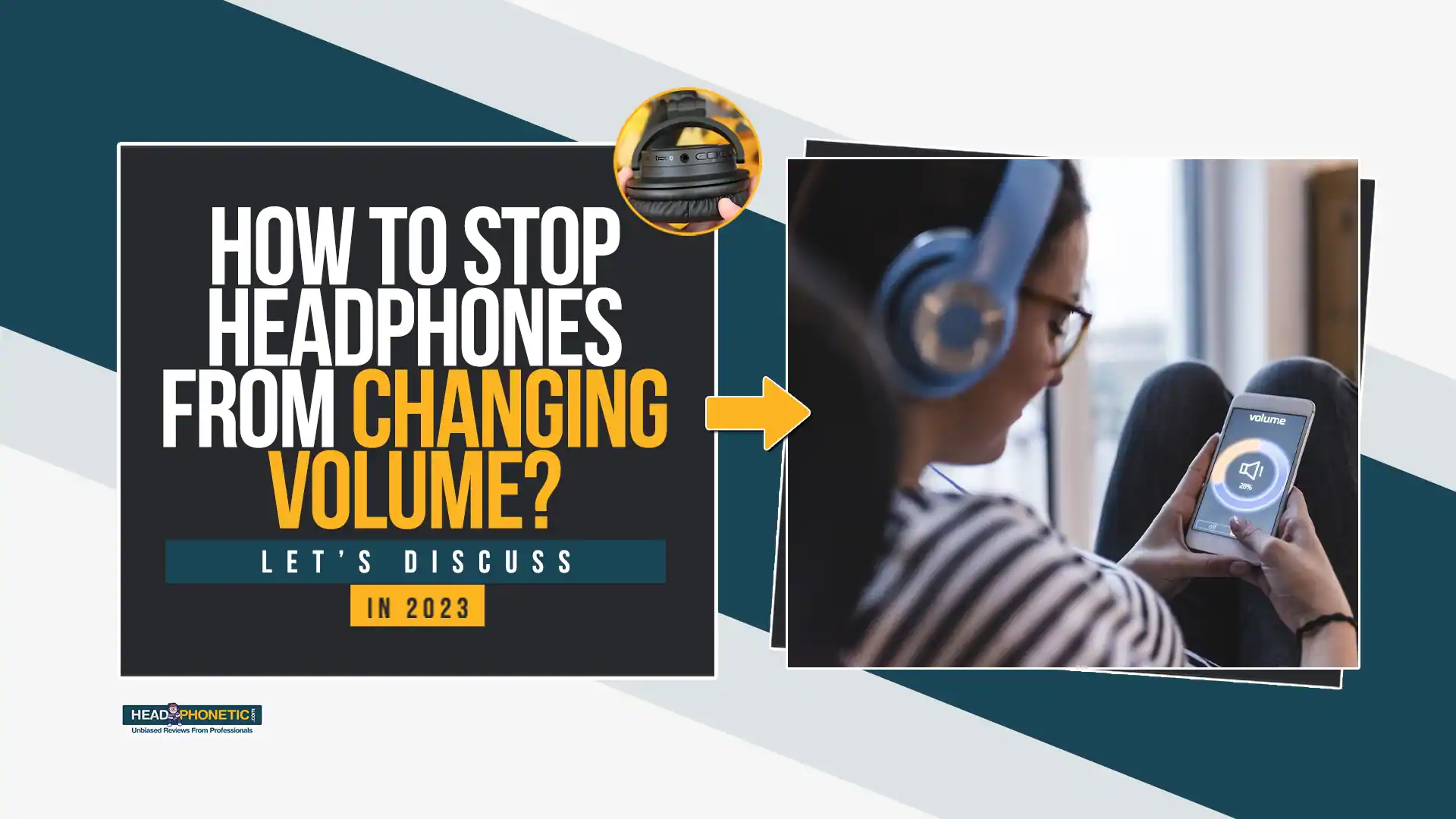 With regular use, headphones can encounter various problems, including the issue of volume fluctuations. This can be an uncomfortable experience, but there are solutions to prevent such occurrences.
Here, we will discuss the reasons behind this problem and suggest some fixes to help you how to stop headphones from changing volume.
Can Headphones Cause TMJ? If you don't know about this then you can read this article.
1. Headphones Changing Volume on Laptop
There can be multiple reasons behind the headphones changing the volume on your laptop, and we have listed the troubleshooting methods for all of them. 
2. Headphones Changing Volume on Android
Many Android users experience issues with changing volumes while using their devices. This is likely because Android users find the interface very user-friendly, leading them to use headphones in various situations, such as lounging on a couch, lying in bed, or exercising. Fortunately, several different solutions can be attempted to resolve this issue.
3. Headphones Changing Volume on iPhone
Compared to Android, the iPhone is known for its durability as a user interface. However, it is still susceptible to a volume issue that can occur unexpectedly. This issue can also affect headphones, causing them to adjust the volume on their own.
The reasons for this issue on iPhones differ from those on other user interfaces. Below is a list of possible causes.
Some Common Fixes How To Stop Headphones From Changing Volume:
So far, in our article, we have been focused on stopping the headphones from changing volume with the help of device settings. But sometimes, the issue is not in your device but in your headphones. So we have listed different common fixes you can try regardless of your device. Check out the list. 
Faulty Jack: Mostly when you use the wired headset on your mobile, the issue that occurs is the faulty jack. Jack is the most used part of headphones in our routine. We plug it and unplug it repeatedly. Check thoroughly if your headphone has a faulty jack. If yes, go to the repair store and get it replaced. It will stop headphones from changing volume once it is repaired.
Replace the Cable: The second most reported issue is the headphones cable. Cord quality and its length play a pivotal role in the performance of your headphones. Moreover, if your headphones cable gets bent, it can get cut frequently. Get your headphones cable checked by the repairman and get it replaced if it's faulty in any manner.
Clean The Device: Our hygienic routine is the key to stopping the headphones from changing volume. For example, if we are not regularly cleaning the jack and port of our mobile in any manner, then it will become an issue.
Clean your jack regularly: and you will notice no change in the volume in any way whatsoever. Moreover, keep your ear cups clean for a better listening experience, as the debris on them might also be blocking the sound.
Check Loose Connection: Wired cables are known for the significant issue of loose connections. When we put extra pressure on the headphone jack and unplug it repeatedly, it can become loose. A loose jack is directly connected to the volume-changing issue. Check your connection and make it perfect in your port.
Multiple Ports on PC: Using headphones on your computer is a good option because, most of the time, it comes with multiple ports. If your PC has two slots for the headphones, then you can plug your headphones into the second port you have yet to use. That might stop your headphones from changing volume.
Quality of Headphones: This one is not exactly a fix for the problem but a suggestion. We mostly fall for cheap headphones without checking their internal parts' quality. That's why our headphone jack and cable become faulty in a short time. You are suggested to use good quality headphones. 
Device Controlling Apps: If you use excellent branded headphones, as suggested, you will have one more advantage of controlling apps. Branded headphones come with a smartphone app that makes your connection with headphones. With the apps, there will be fewer issues and more entertainment.
FAQ'S:
Why do my headphones keep changing the volume?
You can stop your headphones from changing volume by trying different DIY methods mentioned in our article. However, this can be due to multiple reasons. Some of the reasons are faulty jack, port, faulty cable, software glitch, and mobile settings. Your headphones might be changing volume due to any of the senses.
Can you lock the headphone volume?
We cannot lock the headphones' volume, but some Android mobiles have the option to put a volume limit. For example, the Galaxy S23 of the Samsung mobile can give you this feature. You can search for it by entering the settings and turning the limiter on.
Does high volume damage headphones?
Headphones are supposed to be listened to at a maximum of 60% volume capacity. Anything more than that, mainly if listened to for a long time, can harm our ears and headphones. Low-quality headphones can significantly not suffer the too-loud sound playing, and their speakers will be damaged.
Conclusion:
Changing volume issues in the headphones can be due to multiple reasons, depending on your device.
All you need to do is to run different checks on your headphones and device to avoid this issue. For example, cleaning your headphones jack regularly can help prevent this issue. Also, not putting extra pressure on the jack when plugging it in will keep it in good condition for a long time.
Our article is focused on pure DIY methods that do not require any tool to work with. Follow the given steps and enjoy the tension-free music.