Beats Solo 3 Not Charging | A Complete Guide In 2023
Beats Solo 3 is the most wanted headphone of Beats headphones, but people are complaining about the Beats Solo 3 Not Charging. Beats Solo 3, due to any issue in the device, stops charging at seemingly random intervals, which can be quite infuriating sometimes when you are at a crucial stage in a game or jamming on your favorite music.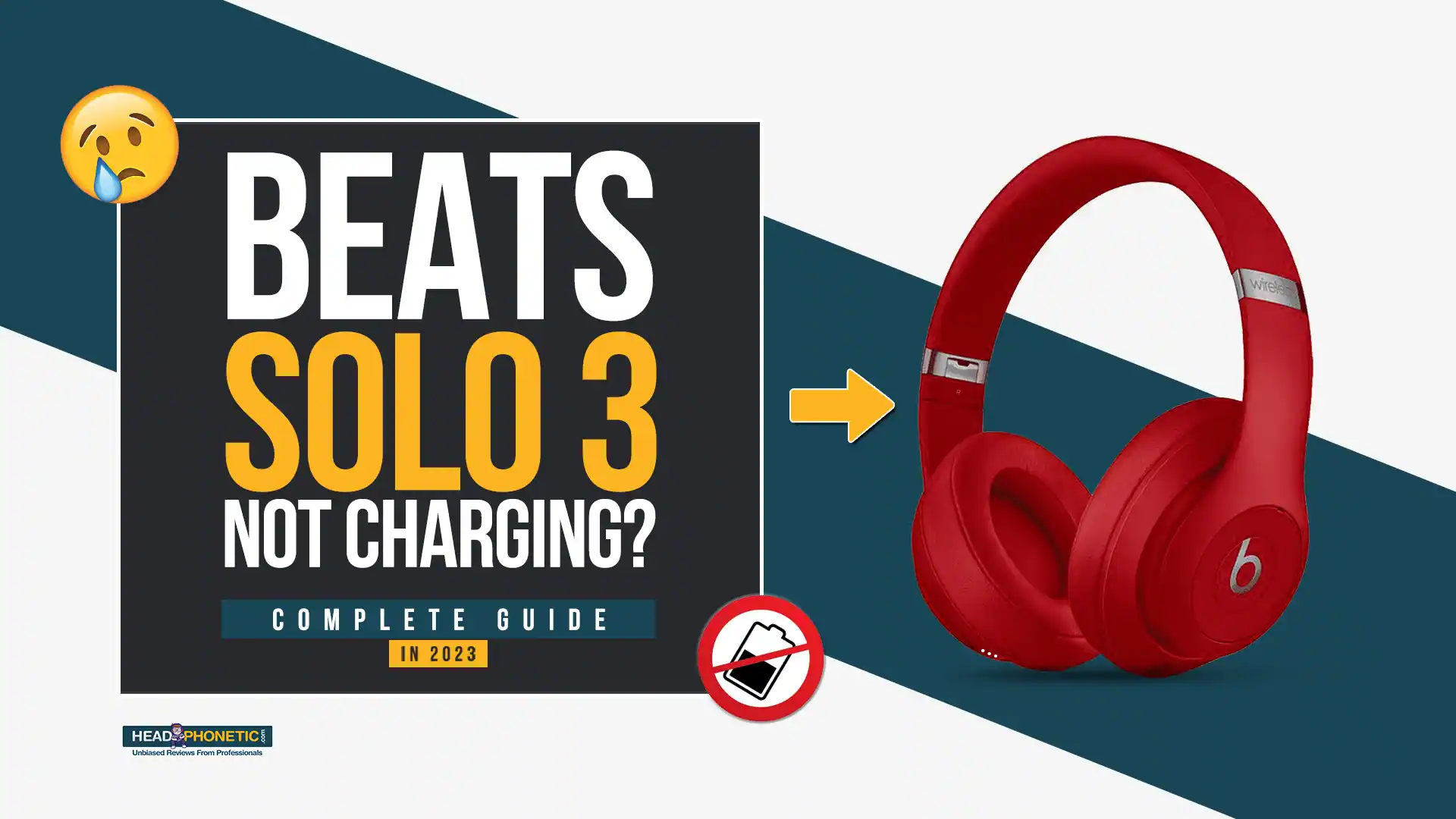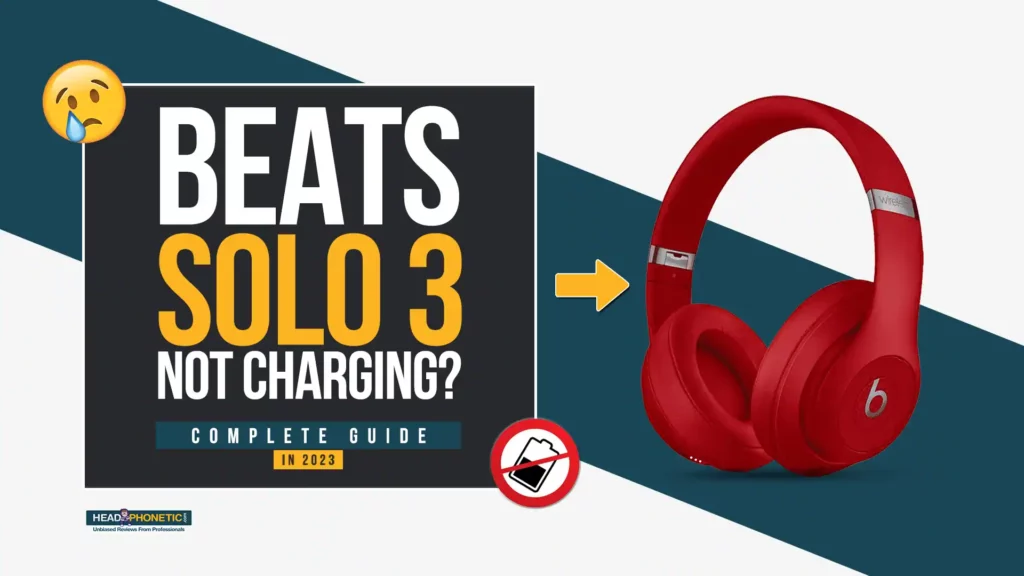 There can be many possible reasons behind it, and to solve these problems, you must stick to this article and read carefully to the end because the possible solutions to your problem will be mentioned later in this article.
But if you are searching for 'are beats studio 3 waterproof' then you can read this article.
Why does Beats Solo 3 stop charging?
There can be several issues, whether it is the dirt or grime that took over the charging socket, the charging pins can be damaged, the power source disturbance, the charging indicator lights not working properly, or maybe it is the battery that is faulty.
Individually, all of these reasons can be a consequence of your Beats Solo 3 not charging. Let's find the solution for your Beats Solo 3 so that you can work on your workspace without any interruption or enjoy music constantly.
Possible solutions for Beats Solo 3 charging issues:
We have compiled the list of solutions that you need to fix your Beats Solo 3 that recently stopped charging. All you need to do is try these solutions one by one because there can be a single unknown issue with your gadget that will be resolved after trying these solutions accordingly. So, without wasting time, let's jump on the complete compiled list of solutions.
A complete guide to resolve these issues:
Reset your Beats Solo 3:
The first thing you need to do is to restart your Beats Solo 3. The trouble you are facing with charging your Beats Solo 3 can be fixed by just power cycling (turning off followed by turning on). For restarting, the step-by-step guide is provided for Beats Solo 3 users facing the charging problem.
Solution
Firstly, you just need to press and hold the power button for a few seconds until your device is off. Now, wait for another few seconds and then press and hold the power button again to turn it on. Finally, to check whether your device is charging or not, connect your headphones to a power source.
Try a forceful restart:
Forceful restart goes a step further from just a normal restart. Usually, rebooting your device forcefully can help eliminate any glitches and issues occurring in the charging of Beats Solo 3. Along with this, it is also helpful in refreshing your device's operating system.
The steps to restart your Beats Solo 3 with full force are mentioned below:
Solution
Firstly, connect your Beats Solo 3 to a power source. Now, long press the power key as well as the volume key. Keep pressing them until the lights start to blink. Finally, release the keys at this point and check whether your Beats Solo 3 is charging now or not.
Most probably, your headphones will start charging after a forceful restart. In case of undesired consequences, give other solutions a try.
Forget the connection and pair your headphones again:
Various issues can cause trouble-charging of your headphones, and one of them can be an unstable connection. For the first time, when you establish the BlueTooth connection between your headphones and phone, your headphones store the initial details. It will automatically enable your headphones to connect with your phone on the second attempt when you will turn on the BlueTooth.
However, sometimes your headphones get the process wrong, and it can somehow technically affect the charging process. If your connection is dropping again and again, or you are confronting an unstable Bluetooth wireless connection, and the charging of your Beats Solo 3 is affected by this, then try these steps:
Solution
Open the phone, go to the settings option, and tap on the Bluetooth option present there. In the Bluetooth option, there will be an option of My Device where you can see the paired connections with your phone. Tap on the symbol on the right side of the paired connection. After tapping on that symbol, there will be the "forget this device" option. Now tap it and disconnect your device from this Bluetooth connection for now. Finally, connect your device again, and you are done with all the steps. Now check if it is working or not.
The charging socket may be full of dirt and grime.
Due to air pollution, dirt and grime can be deposited in the charging case or socket that blocks the possibility of charging your Beats Solo 3. If this is the case, then your devices need a cleaning service to get rid of unwanted dirt and grime.
In order to get rid of this dirt and grime, follow these steps:
Solution
First, turn off your headphones so the cleaning process can be smoothly done. The next step is to inspect the charging port with a flashlight. Thoroughly check the socket and look wherever the dirt and debris are deposited. Now, take a toothpick and gently insert it into the socket and slowly start moving it in a circular motion to loosen the debris. It is time to finally remove the dirt and grime from the charging port. After getting done with cleaning, charge your headset gadget for checking. 
If this does not work, then jump on to the next solution given in this article.
The charging cable could be damaged:
There can be a fault with the charging cable. Thoroughly check your charging pin, and if there are noticeable bent and fraying externally, then it can be one of the reasons why your Beats Solo 3 is not charging. However, the damage is not always visible, so there can be a fault in the interior of the cable.
To detect this, try plugging the cable into a USB port of another device and or cross-check it with other devices. In case of any unwanted result, replace this charging pin with the new one because it is one of the most common reasons behind not charging your headphones.
Problem due to power source:
The power source is another reason that blocks the charging of your Beats Solo 3 because when the lower output charger charges the headphone, it will charge very slowly or not charge at all. So, try to charge your headphones on a different power source to solve this issue.
Update your Beats Solo 3:
If any of these solutions do not charge your Beats Solo 3, then there must be an issue with the older version. You need to update your Beats Solo 3. Follow these instructions in updating your headphones.
Solution
First, download the Beats Updater on your PC, Laptop or Mac and install it. Then, connect your Beats Solo 3 to your PC, Laptop, or Mac, followed by locating your headphones on the official website of Beats. Finally, click the update button present there and wait for it. After updating, check if your issue is resolved or not.
Charging lights may not be working properly:
There can be confusion created by the charging lights, which they stopped working or start blinking unusually. So, keep them checked if they do not function properly.
Your Beats Solo 3 may be damaged by sweat or water:
Thoroughly check your Beat Solo 3; if it is affected by the water and sweat, it will not be able to charge. If water and sweat have done damage, then follow these steps:
Solution
Try to keep your Beats Solo 3 in a warm place, or you also can use a dryer for drying your headphones from water and sweat. When your Beats Solo 3 is completely dry, then plug it into charging and keep a check. If it is still not working, charge your Beats Solo 3 for a day or two. It will most probably start working.
Change your battery:
The main fault can be with your battery. The Beats Solo 3 has a good battery life, but it can be charged for a limited time because, with every recharge, your battery health gradually decreases. So, if you have been using this battery for a long time, it may be time to discard them and buy a new one for your favorite Beats Solo 3 wireless headphones.
Internal device problem:
After trying all these hacks, if your Beats Solo 3 headphones are still not functioning or charging properly, there must be an issue with any of its internal parts. To get done with it, you must go to a professional who can thoroughly check every part of your headphones. Your headphones will probably start charging after the internal component problem is fixed.
Final Thought:
The Beats is a globally very famous brand because of producing high-quality headset gadgets. The most preferred headphone is the Beats Solo 3. It is not uncommon to confront some technical issues while owning such devices. Beats Solo 3 owners are usually in trouble with the charging issue of their headphones.
There can be a series of possible reasons behind the charging issues and for which we have come up with the rescue. This article has a complete guide to resolving all these charging issues you are facing with Beats Solo 3. I hope this guide works for you so you can enjoy using your favorite Beats Solo 3.