Beats Studio 3 Vs. Beats Solo 3 | Honest Comparison In 2023
Beats Studio 3 vs. Beats Solo 3? What are the differences and similarities? What is the best option to buy? Find out below!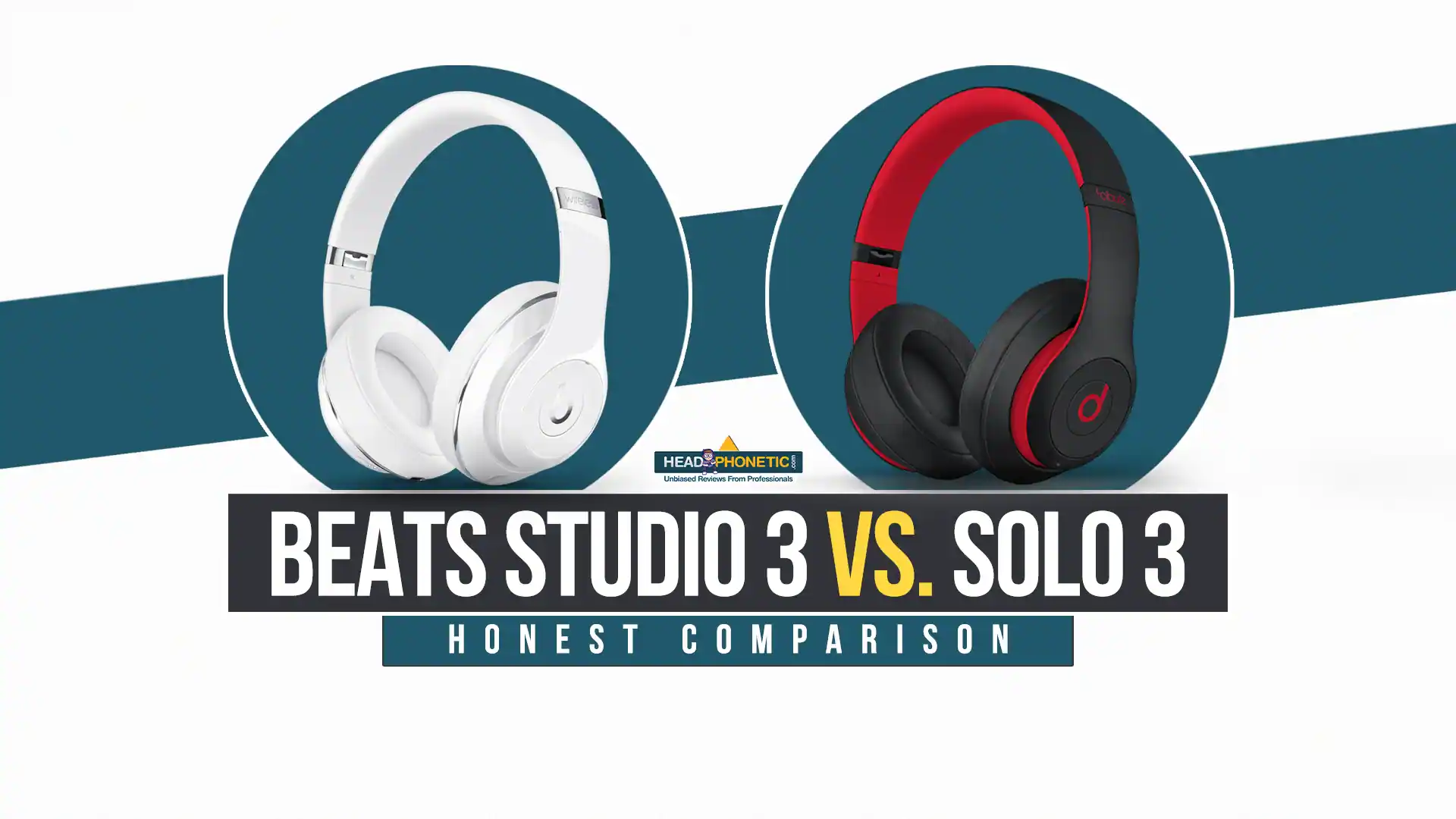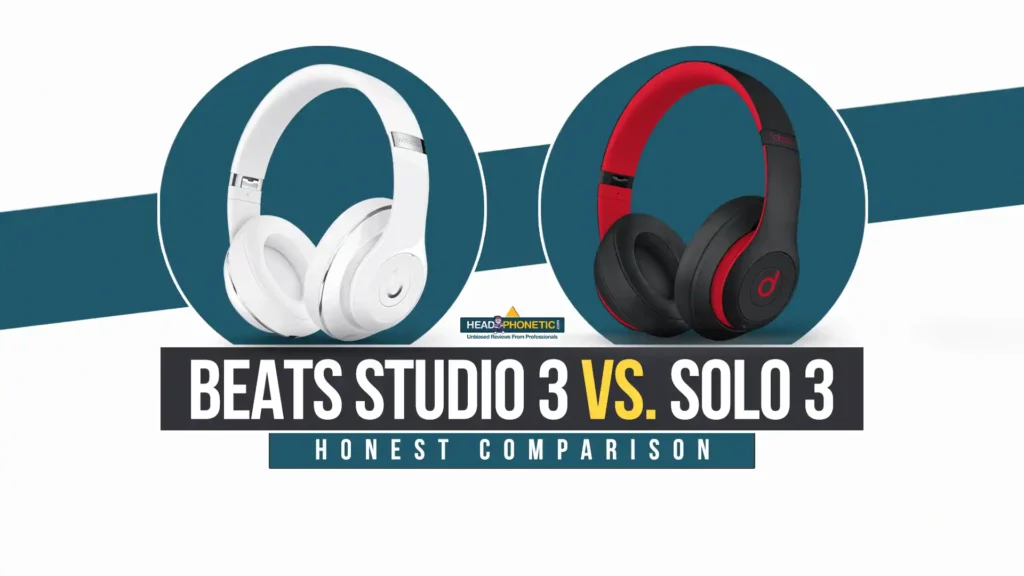 Beats Solo 3 and Studio 3 have subtle differences between them. If you are looking for a headphone with an ANC feature, reduced sound leakage, on-cup controls, 22 hours battery, and fast charging, Beats Studio 3 will be a considerable choice. On the other hand, if your requirements are long-lasting, with up to 40 hours of battery, a breathable on-cup design, and a less expensive headset than Studio 3, then Beats Solo 3 would be a perfect choice.
Beats Bluetooth headphones are popular throughout the world for a lot of reasons. The brand aims to offer some great choices to customers who wish to have a good-sounding yet stylish headset with excellent battery life.
Here, we will talk about the two 'apparently identical but different' models by Beats: Studio 3 and Solo 3. If you are not able to decide which one of these is best suited for you, then read this post till the end to make a wise purchasing decision.
But If you want to compare Beats Studio 3 with Bose 700 then you can read this article.
The Specification of Beats Studio 3 Vs. Beats Solo 3:
| | | |
| --- | --- | --- |
| Features | Beats Studio 3 | Beats Solo 3 |
| Gaming | 6 | 6.5 |
| Office Work | 7.4 | 7 |
| Music Lovers | 8 | 8 |
| Travelers | 8 | 8.6 |
| Phone Calls | 7.5 | 6 |
Have a look at some of the essential features both models entail and the comparison between the two.
A side-by-side comparison of these devices is provided here for your better understanding.
Side-by-side Comparison:
Here is a short table displaying the primary features of Beats Studio 3 and Beats Solo 3.
| | | |
| --- | --- | --- |
| Headset Model | Beats Studio 3 | Beats Solo 3 |
| Design | Over-ear set | On-ear set |
| Audio Chip | Apple H1 | Apple H1 |
| Weight | 9.17 Oz | 7.5 Oz |
| Microphone | Yes | Yes |
| Active Noise Cancellation | Yes | No |
| Bluetooth | Yes | Yes |
| Battery Life | 22 hours with ANC and over 40 hours otherwise. | +40 hours |
| Warranty | 1 year | 1 year |
| Charge | Quick charge – 1.5 hours | Quick charge – 2 hours |
| Playback Time | 3 hours with 10 minutes charging | 3 hours with 5 minutes charging |
| Available Colors | Matte Black, Midnight Black, White, Black-red, Shadow Gray, Blue | Matte Black, Rose Gold, Gloss Black, Gold, Citrus Red, Gloss White, Silver, Mickey's 90th Anniversary Edition |
| Price | Check Price | Check Price |
FAQ'S:
Does Beats Solo 3 have bass?
Beats Solo 3 is reviewed as music headphones by music lovers. These headphones are known for producing a neutral sound. We cannot call it just bass headphones; additionally, its mobile application only allows a little sound customization. Yes, if you play a rock bass sound on these headphones, you will not regret your decision.
Are Beats Solo 3 waterproof?
Beats Solo 3 is many things, but waterproof is not one of them. Neither are they waterproof nor sweatproof; You are suggested to keep Beats Solo 3 dry for the ultimate music experience. Water or moisture in the headphones can lead to some unwanted results.
Do Beats Studio 3 sound better than Solo 3?
Beats Solo 3 has quickly made a big name in the market, but Beats Studio is the underdog. It sounds very precious if compared with Beats Solo 3. Also, its better ear grip with better size and ANC feature make it a preferred choice for many.
What is the difference between Beats Solo and Studio?
Beats Solo 3 and Studio 3 have many differences, and battery backup is one of them. Solo 3 has a battery time of 40 hours, and Studio 3 comes with 22 hours. Studio 3 has a better ear grip with a big size as compared to Solo 3.
Does Solo 3 have noise cancellation?
Auto noise cancellation, or ANC, is one of the latest features introduced by the manufacturers of the headphones. It allows us to have a convenient user experience. Unfortunately, Solo 3 does not come with an ANC feature, which gives Studio 3 an edge.
Let's Wrap up the Comparison:
Beats Solo 3 or Beats Studio 3, we are clear on one thing: Beats have won the market with these masterpieces.
There is little difference between these two devices in terms of how they work. However, we can mention some differences, such as battery timing. A battery backup is a vast difference between Solo 3 and Studio 3. Besides the battery, the low latency rate also gives a slight edge to the Beats Solo 3. The size, quality, and speaker performance of both these devices are almost a tie.