How To Connect Beats Solo 3 With Windows, Android, Mac, and IOS Devices In 2023
Connect your Beats Solo 3 headphones with Windows, Android, Mac, and iOS devices within minutes, just through simple steps.
Unboxing a brand new pair of Beats Solo 3 can be exhilarating. However, to enjoy exceptional audio quality, you must connect the equipment to a Bluetooth-enabled device.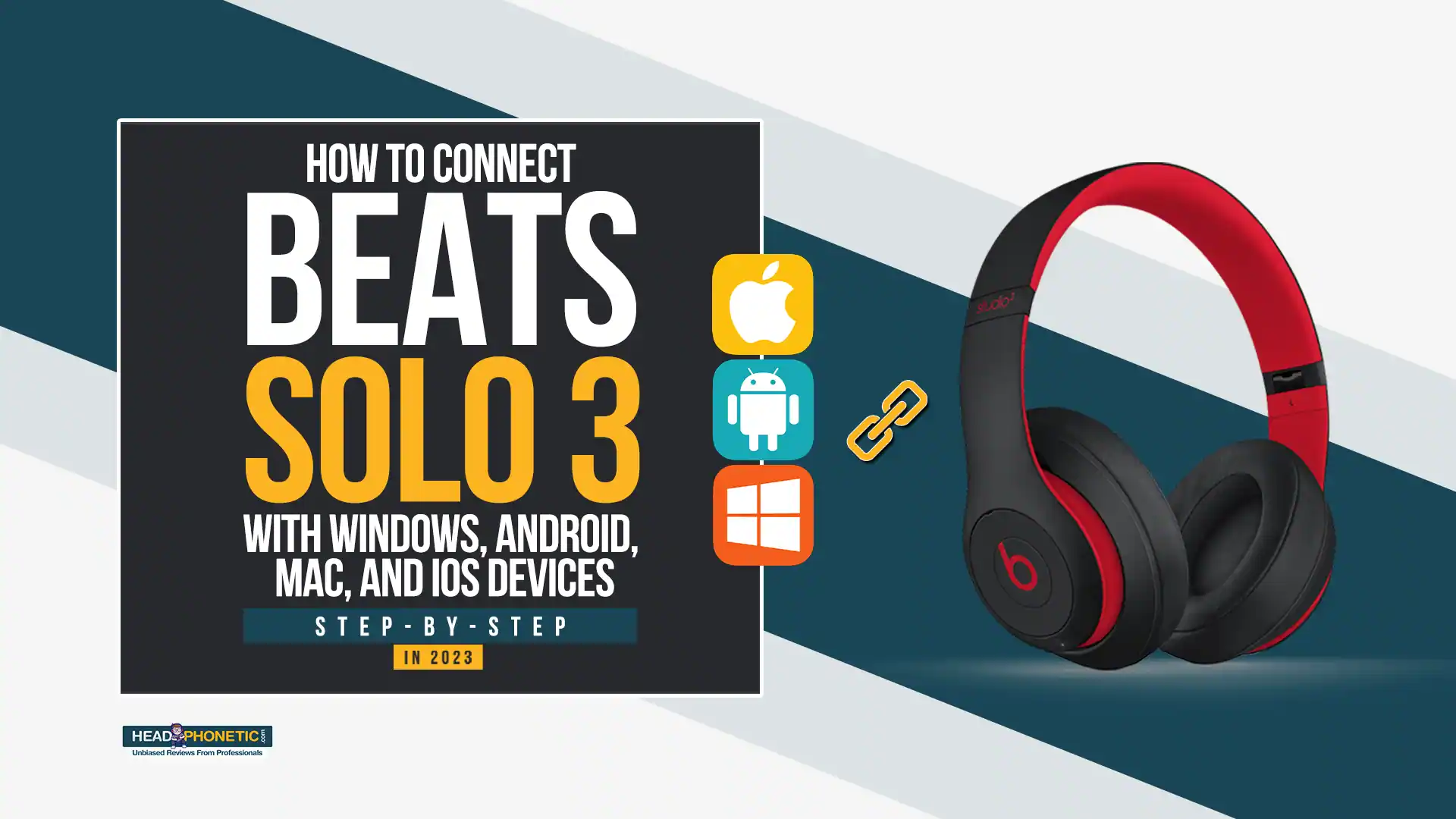 Beats Solo 3 promises to provide the best connecting experience. Yet it can be a headache sometimes because of the device being connected.
In this post, you will learn a step-by-step procedure how to connect Beats Solo 3 headphones with Android, Windows, Mac, and IOS devices.
But if you are looking for Beats Solo 3 Charging issue then you can read this article.
Before You Start How To Connect Beats Solo 3:
The first two steps are the same for all the connections.
Step 1: Charge Your Earphones:
In order to charge your earphones, you are required to plug the device into a power source with the help of a micro USB cable.
Once the charging process starts, the Fuel Gauge lights will start flashing.
All five lights will be lit when the charging is complete.
Step 2: Power On Your Headset:
This step is the same for the devices because you obviously need to switch on the gadget to make it work.
To make your Beats Solo 3 start, you must long press and hold the power button for at least 1 second. The power button is present on the right side of the earphone on the top of the LED indicators.
Once the audio equipment is ready to use, you will hear the system voice saying, 'Power On.' Also, you will observe that the indicator has started flashing a light.
How To Pair Beats Solo 3 With PC:
Unfortunately, you may not find any shortcut to connect Beats Solo 3 with a PC or laptop. The only method of making that happen is through manual System Settings.
Starting from step 3 because the first two steps are the same for all the mentioned devices.
Here are a few easy steps to follow:
Step 3: Search for Bluetooth
Choose the Windows icon on the desktop and start searching for Bluetooth in the search bar.
Step 4: Enable Bluetooth
Click on Bluetooth and Other Devices settings from the search results.
Turn the Bluetooth toggle on and choose the option 'Add Bluetooth or other devices.'
Step 5: Search For Beats Solo 3
Click on Bluetooth, and your Windows will search for Bluetooth-enabled devices nearby.
Once you get the list of available devices, choose Beats Solo 3.
Step 6: Connect Devices
As soon as both pieces of equipment are connected, you will get a confirmation notification on the screen.
Step 7: Enjoy
Enjoy a smooth audio experience on your headphones.
Troubleshooting:
If you face audio delay or connectivity issues, you can also restart your headphones and try again.
The second option is to reset the audio equipment by pressing the power button for 10 seconds. To ensure a strong connection, resetting Beats Solo 3 will erase all previous data from your earphones.
How To Pair Beats Solo 3 With Mac:
Similar to the Windows PC/laptop, there is no shortcut for pairing Beats Solo 3 with Mac. It would be best if you connected them manually. However, the good news is that; the connectivity method is hassle-free and straightforward.
Follow the given steps:
Step 3: Enable Bluetooth on Your Mac
Before starting the procedure, ensure Bluetooth is enabled on your Mac.
Search for Bluetooth on your desktop and select Bluetooth Preferences.
Step 4: Scan For Nearby Bluetooth Devices
Look for available devices to connect. Click on Beats Solo 3 to connect both pieces of equipment.
You will get the indication connected when both devices will pair.
How To Pair Beats Solo 3 With iPhone:
Apple is the Beats owner, making the audio equipment easy to pair with iPhones by Apple.
Generally, wireless Beats earphones connect with Apple devices automatically whenever you wish to use them together. However, if your experience is not seamless, then follow the given steps:
Step 3: Enable Bluetooth on the Phone
Search for the Setting option on your iPhone and check for Bluetooth Settings. If your Bluetooth is not enabled already, turn it on to proceed.
Step 4: Enable Pairing Mode On Beats Solo 3
It would help if you turned on the pairing mode to make your earphones appear on the iPhone.
The process of enabling pairing is simple. All you need to do is; press and hold the power button for a little longer or until you see the indicator flashing light. It shows that the device is scanning for nearby Bluetooth-enabled devices to connect.
Step 5: Check For Beats Solo 3 On Your Phone
Search for your headphone's title within the list of available Bluetooth connections. Once you see Beats Solo 3 on your device, click on it, and both devices will get paired.
Once Beats Solo 3 is paired with iPhone successfully, you will see the equipment name with Connected status under My Devices.
How To Pair Beats Solo 3 With Android:
Beats Solo 3 is not just compatible with the iPhone, but this model also offers a great audio experience to Android users.
Despite being a product of the Apple brand, users can still enjoy seamless audio with minimal hiccups.
Here are the steps to follow for manual Bluetooth connection of Beats Solo 3 and Android phones.
Steps 1 and 2: Scroll Backwards For Initial Steps
Step 1 and 2 involves powering the headset and charging the device for a smooth experience.
Step 3: Search For Bluetooth Icon
Go to Settings and Search for the Bluetooth icon. You would need to swipe down from your home screen to get to the settings on Android phones.
However, the procedure varies in different models. So, use the search bar of your phone to reach the desired results.
Step 4: Enable Bluetooth
Once you find the Bluetooth icon, press it to enable the setting. The android device will automatically start searching for nearby Bluetooth-enabled devices.
Just make sure your headset is powered on and in pairing mode.
Step 5: Look For the Headset Name On The List
As soon as the list of available Bluetooth devices appears, it is time to look for your headset model and click on it.
This step will initiate pairing between the gadgets.
Your headphones will indicate when the pairing is successful through a voice command. Also, you can check Connected status on your android phones after a successful operation.
Why Don't My Beats Solo 3 Connect After Following All Steps?
Several factors can affect the connectivity of Beats Solo 3 with other Bluetooth-enabled devices. For instance, it could be a battery issue, a setting problem, etc.
In case the instructions mentioned above are not working for you, here are a few suggestions to consider:
Power Cycle Your Device and Headphones:
A power cycle is switching off electrical devices via the primary power source and turning them back on. It is said to be an effective way to resolve connectivity issues.
Reset Your Headphones:
Factory resetting is considered a surefire method to remove any technical glitch in your headphones. However, you may lose your previously saved data with this method. Subsequently, you must re-pair your Beats manually with other devices.
Resetting methods may vary, depending on the model of your audio equipment. For Beats Solo 3, you can hold power and volume down buttons together for factory resetting.
Check For Issues in Settings:
Using multiple hardware and software on your phone or PC can lead to issues in settings. It is a common problem faced by users.
Try to figure out the root cause yourself. However, the easiest solution is to seek help from a technician.
Why is my Beats Solo 3 not connecting to my iPhone?
The Beats Solo 3 headphones are especially well-suited to Apple products. Given that they share a maker, these two items are already familiar with one another.
Nonetheless, you could be experiencing difficulties linking your headphones to your iPhone. Here are some troubleshooting steps that can connect your iPhone again to the Beats Solo 3.
Step 1:
There's a good chance that anything else connected to your iPhone is to blame for this failure.
To solve this:
Go to the Bluetooth settings on your iPhone.
Check if any other is paired with your iPhone.
If no device is paired, restart the Bluetooth in your cell phone.
It will now be free of any paired device.
Step 2:
The inability to pair your iPhone could be another cause. To pair the beats again, try un-pairing them first.
Go to Settings
Forget the Beats Solo 3.
Step 3:
It's also possible that the Bluetooth range is insufficient, which is another issue. The optimal range for a Bluetooth connection is between twenty and thirty feet. If you're further away than 30 feet, you should get closer. You can listen to music on your iPhone after trying these solutions.
FAQ'S:
Why won't My Beats Solo 3 connect to my PC?
Despite the Beats Solo 3's reputation for ease of use, there are instances when we accidentally get it stuck. Problems with connecting your Beats Solo 3 to a computer? It could be a result of your PC's settings. Select Beats from the available devices in the PC's audio settings.
Bugs in the system might also be stopping your connection. It is better to reboot the system and headphones, which works most of the time.
What devices are Beats Solo3 compatible with?
The Beats Solo3 headphones are well-known for their extensive feature set and easy Bluetooth connectivity. This fantastic gadget works with any OS out there.
It makes no difference if you're running Windows, Mac OS, Android, or iOS. The Beats Solo 3 is compatible with all of them. Follow the post instructions, and you should be all set.
What version of Bluetooth are Beats Solo3?
Class 1, the newest version of conventional Bluetooth, is what the Beats Solo 3 use.
The fuel charging technology built into the Beats Solo 3 allows for three hours of playback time in just five minutes. That's a lot of time for such a compact Bluetooth device, and it lasts for up to 40 hours on a full charge.
Can Beats Solo3 Connect to multiple devices?
The convenience of switching devices quickly and effortlessly is a significant benefit of Bluetooth headphones. The new Beats Solo 3 can pair with two gadgets at once.
Thanks to the innovative technology built into the Beats Solo 3, you can easily switch between your Android and iOS devices.
Final Words:
Connecting Beats Solo 3 with Android, iPhone, PC, or Mac is not rocket science. All you need to do is follow all the given instructions religiously. The connectivity steps for these devices are similar.
Make sure that there are no distractions between the two devices in the form of a third Bluetooth-enabled gadget. Enjoy a smooth and seamless audio experience.